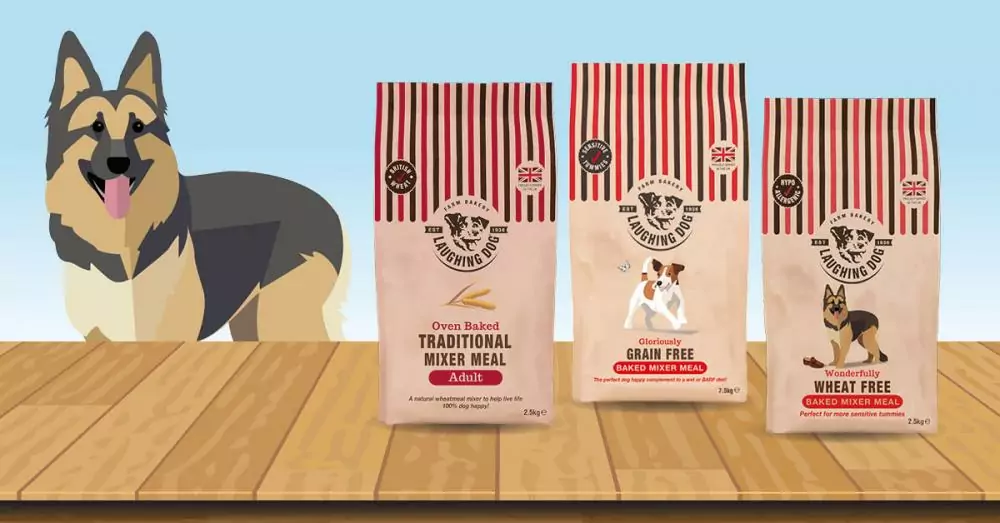 Whether you're looking for a grain free mixer meal laden with sweet potato, delicious botanical herbs and linseed for that glossy gleaming coat, or a wheat free variety brimming with barley and oats for a slower form of energy release, or purely our traditional, 100% British, wholemeal mixer, naturally simple, with nothing else added, just as nature intended.
Our baked mixer meals provide the perfect complement to feed alongside a wet, canned meat or even BARF diet to add a little extra crunch to help keep teeth clean and breath superbly fresh. In addition, our dry complete wheat free and grain free dog foods have been carefully formulated to be fed alongside our mixer meals or in addition to a wet diet. The perfect way to pop some variety into your favourite four-legged friends' dog happy life!
So whether you're looking for grain free dog food, wheat free dog food or simply a wheat inclusive mixer biscuit, Laughing Dog can be sure to bake even the fussiest of dogs 100% dog happy!
p.s. Did we forget to mention that our traditional terrier meal is endorsed by the Canine Epilepsy Support Group because of its simplistic formulation of wholemeal flour and water, so it's the perfect dog food for epileptic dogs.
Laughing Dog…baking the nation 100% dog happy since 1936!