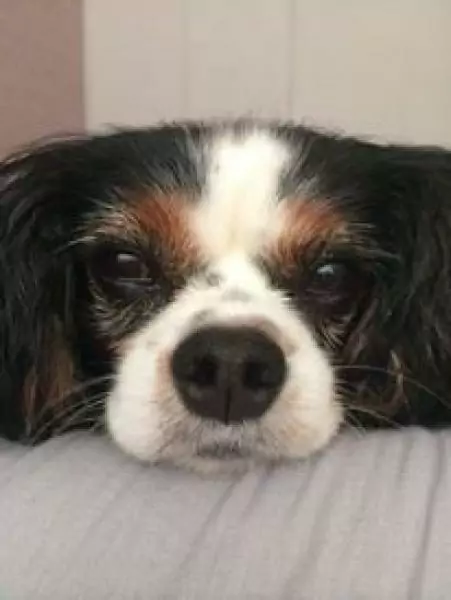 Our first 'A Day in the Life Of' is from a very special little King Charles Cavalier who is a rescue dog and as you will see, has very much found her forever home and has quite simply gone, from rags to riches. We hope you enjoy your little insight into Lucy's life….If you think you have a four-legged friend who has been through it all, has an exceptional talent or is just very special, please do pop us an email to bakery@laughingdogfood.com about being featured!…
Hello, My name is Lucy and I'm a Cavalier King Charles Spaniel.  Just over three years ago I was rescued from what's called a puppy farm, this is a place that commercially breeds dogs for profit with little regard for their health or well-being.  When I was rescued i had various health issues, which included being extremely underweight at only a tiny 3.5kg, I had bald patches to my fur and I smelt awful from the urine I had been kept in burning my skin.  I also had an extremely humped back, to the extent that my back feet touch my front, due to the conditions I had been subjected to.  In addition, to this day I still suffer with epilepsy and severe dry eye.
BUT  that was my bad start, let's focus on my positive life now….My mummy or PA (Personal Assistant) as I like to call her set me up my very own Facebook page when she first adopted me to raise awareness, my page kind of snowballed and I now have 60,000 followers from around the world! I have won various awards for my bravery, done two fundraising calendars and even an illustrated children's book, my mummy certainly keeps me on my paws, got to spread the message about us rescue dogs you see!
My day to day life now is a million miles away from how it was three years ago, some would say I'm a rags to riches story! Now I start my day by making a 'cockerel' noise to wake the PA up (it's true, she's even videoed it) so that she knows it's breakfast time AKA one of the best times of the day.  Once the frenzy of breakfast time is over, I have to have my morning medications and all my eye drops, I don't like the eye drops but the PA say's they are important so I don't kick up a fuss.
Once my breakfast has gone down I go out for a walk with my sisters.  I'm going to be completely honest, I would rather miss the walk but the PA says the fresh air and exercise is good for me!  Once we are back, I have a snooze on the sofa while my PA gets some work done.  Sometimes she (annoyingly) wakes me up for pictures or I'll hear her rustle something and I have to check it's not food that I'm missing out on!
The rest of the day is much of the same, generally revolving around my tummy, my excuse is I wasn't fed properly for so long I now treat every meal as my last!
As well as day to day life I get to attend some pretty cool events so I can raise further awareness, most recently I judged at an All Dogs Matter event in London (I was also a doggie cake tester – my dream role) I attended a rally against puppy farming outside Parliament with MP's and celebrities (I even featured on the BBC Daily Politics show) and last week I attended an exclusive 'Doggy Dinner' for the release of the new Universal film The Secret Life Of Pets!  I think we can safely say I have a pretty varied life now, but what matters most to me is that whatever I do, wherever I go I'm raising awareness for all the amazing rescue pets out there!
So please remember, always consider adoption if you can, us rescue dogs are pretty pawsome you know.
Cavalier kisses,
Lucy The Rescue Cavalier xx
p.s. do pop to my facebook page to find out more about me and follow me on my adventures!
Laughing Dog, baking the nation 100% dog happy since 1936!