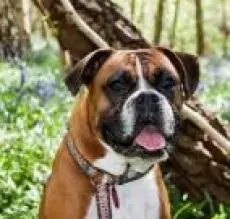 Bessie the Boxer has been challenged by her hooman parents to stop breaking all the squeakers in her toys within 5 minutes!
Bessie is 6 years old and was a rescue puppy at only 5 weeks old. She was found with her brother abandoned by the side of Brands Hatch Race Track in 2011. Her brother was adopted by one of the rescuers and Bessie found her new life when she was adopted by her hooman parents.
Her favourite place is the beach……Camber Sands is not too far, and provides miles of sandy beach for her to run free on (well, she is a Boxer!). She always manages to find any stream or muddy puddle she can!
Bessie is such a gentle and lively dog, and like all dogs, full of love for everyone. Although, se will always choose attention and cuddles with her hoomans over playing with her furry-friends.
She loves chewing, but only her toys….she always breaks the squeakers within 5 minutes.
Bessie really has bought much love to her family and is definately 100% dog happy….!
If you would like your four-legged friend to be featured on our website and social media, send our bakers your story! Simply post on our social pages or email us at bakery@laughingdogfood.com