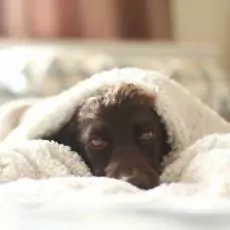 This month's #doghappy moment was chosen by our brilliant bakers and just so happens to be one of our #dogsinblankets snaps. Tucked under the covers is Sev, the gorgeous spaniel who also has a partner in crime Lily and both are incredibly photogenic. They have a lovely blog and you can keep track of them via their instagram page too as they're always embarking on adventures!
We  thought Sev captured the comforting world of 'home' beautifully, and shows the picture perfect #doghappy moment; snuggled up, under a blanket, warm and cosy. We think that you will agree!
Don't forget to share your #doghappy moments with us via our social pages (Facebook, Twitter, or Instagram) or pop them across to us on email at bakery@laughingdogfood.com. We'll enter every #doghappy image into a prize draw to be picked at the end of the year too – so you could win some very tasty treats for you and your four-legged friend to enjoy!
View our Laughing Dog range of dry and wet dog food here.
Laughing Dog…baking the nation 100% dog happy since 1936!