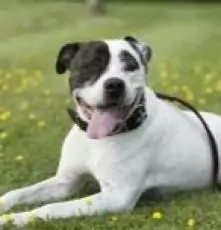 Diabetes is becoming more and more common in our furry friends. But how many of us know the signs and symptoms? And if your dog is diagnosed with this condition, how can you help?
Diabetes is a complex disease, caused by a lack of insulin or a lack of response to insulin. As with humans, this can cause complications and needs to be correctly managed.
The symptoms will vary from dog to dog as every dog is different. However, a few common signs that may be present are increased urination, excessive thirst, change in appetite and weight gain. If you feel your dog may be showing any of these signs, please see your vet as soon as possible. Your vet will be able to arrange for a blood test to detect the presence of high blood sugar levels caused by diabetes.
Signs of diabetes in dogs are important to be aware of, but you also need to be aware of factors that can increase the risks. Breed, weight and gender of your dog are three risk factors for diabetes. Susceptible breeds include dachshunds, golden retrievers, cocker spaniels, labradors, german shepherd's and terriers. Obesity is also a contributor to diabetes so it is important that you try to keep your dog on a healthy and balanced diet. Females are more susceptible to diabetes than males but feeding your four-legged friend a balanced diet can help to lower the risk.
If your furry friend does have diabetes then their diet needs to be controlled and monitored by your vet. Nutritionists recommend that a high fibre diet and avoiding treats with high sugar can help to normalise your dog's blood sugar levels. Suggested natural dog treats include carrots or fruits such as strawberries, pears and raspberries. However, these need to be given in moderation and accompanied with regular exercise.  Alongside sensible treats, your furry friend needs to be fed with a regular complete diet to help maintain normal blood sugar levels. A mixer biscuit alongside a meat-based dog food would also help keep these levels stable.
If you are worried that your dog might have diabetes or would like more information, please see your vet for further advice.
Useful links:
www.diabetes.co.uk – click on the 'pets' tab for tips from canine healthcare experts.
www.bluecross.org.uk/pet-advice/diabetes-dogs – this dog charity has lots of advice for managing diabetes in your dog, as well as lots of recipe suggestions!
Here is a healthy dog treat recipe from our bakers created especially for dogs with diabetes:
Ingredients
50g Broccoli/Carrot
290g Beef Liver
30g Sweet potato flour.
1 egg
Method
Preheat the oven to 180degrees. Line a baking tray with parchment paper.
Place the liver into a food processor, blend until finely chopped, add the carrots and blend again.
Add the flour, egg and liver mixture into a bowl and mix until smooth.
Spread evenly in the baking tray.
Bake for approximately 15minutes or until firm in the centre.
Once cool, cut and let your four-legged friend enjoy their homemade dog treat!