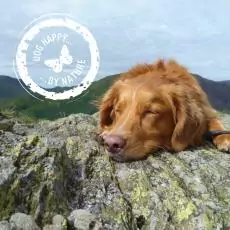 Join our Dog Happy by Nature campaign!
Here at Laughing Dog we gently oven bake our entire range of dry dog food at our farm in Lincolnshire. To kick 2018 off with a natural and wholesome theme, we have launched a new campaign called 'Dog happy by nature' to help raise awareness of our delicious and wholesome natural world.
Since 1936 we have always believed that natural is best – gently oven baking our food, using naturally wholesome ingredients, and never adding any artificial colours, flavours or preservatives into the mixing bowl. But our commitment to natural goes further – our food is born from the land. We are passionately committed to caring for our Lincolnshire countryside and together with its glorious (yet unpredictable!) weather and rich fertile soil, we are able to grow our own ingredients for our recipes, creating dog food that we believe helps to keep dogs 100% naturally dog happy.
Across our social feeds, website and newsletters, you'll see photos of our farm, snaps of our ingredients and – most importantly – pictures of our happy four-legged friends down at the farm. We passionately believe that all dogs deserve to be naturally dog happy, and so in addition to opening the doors to our farm, we are inviting all of customers (direct and pet shops! ) to share photos of their four-legged friends enjoying the great outdoors – whatever the adventure, whatever the weather.
Pet shops are invited to share their photos to Laughing Dog's Facebook, Twitter and Instagram pages with #doghappybynature and the name of their shop. Post by the 31st May 2018 to be entered into a free prize draw to win £500 worth of Laughing Dog completes, treats and mixer meals for your shop. One winning photo will be picked by our bakers on the 1st June 2018.
Facebook: Laughing Dog Food
Twitter: @LaughingDogFood
Instagram: @laughingdogfood
Pinterest: LaughingDogFood
(Please note that any photos you post may get shared in our newsletter, featured on our website and across all our social media platforms. Only post if you are happy for us to do this). To read our competition & prize draw T&Cs, click here.
Laughing Dog is part of Fold Hill Foods Ltd, based in the Lincolnshire fens. Laughing Dog's Farm Bakery range of dry completes, treats and mixer meals is available in wheat free and grain free varieties, and its Farm Kitchen range of wet completes is grain free. For trade enquiries, email trade@laughingdogfood.com or call (Freephone) 0800 098 8057.