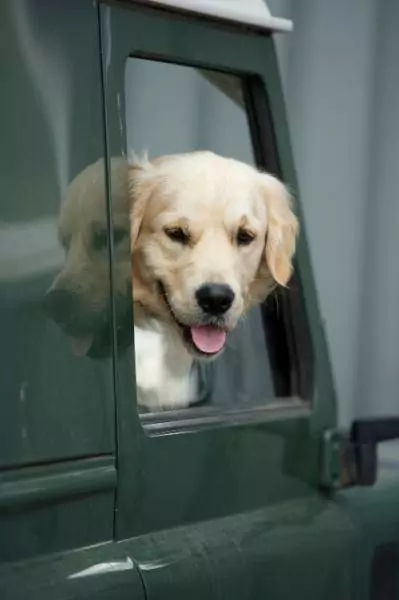 Attention to food, adventure and fun can reward owner and pet, says Rachel Tierney
Laughing Dog has been making dogs happy for three human generations with wholesome, delicious food baked on its family farm in Lincolnshire. This month, it celebrates 80 years of helping owners create happy moments with their beloved four-legged friends. The company believes all dogs deserve to be happy. They are part of the family and should be cherished – given the tastiest food, included in our activities and even our holidays. Here are five top ways to help keep your dog happy.
Choose healthy treats
Slices of apples make for a tasty occasional treat. They are good for their teeth and full of fibre and vitamins – just make sure you remove the seeds and core. Natural peanut butter is also good for dogs in moderation as it is full of proteins, healthy fats and vitamins B and E – try offering it on a raw carrot. When choosing pre-made treats look for natural ingredients, with no added colourings, flavourings or preservatives, such as Laughing Dog's delicious and nutritious Gloriously Grain Free White Fish Treats and Wonderfully Wheat Free Oaties. If you offer treats alongside meals, remember to reduce the amount of food you give your dog.
Groom for improvement
Daily grooming makes dogs feel great. Touch encourages relaxation and connection. Grooming also boosts circulation, keeps ticks and other pests at bay, and helps reduce grease levels so they do not build and cause sebaceous cysts. Work out any mats as they can pull the skin and cause sores, and pay extra attention to paws. This is about more than a glossy coat: it's your chance to check in, physically and emotionally, and for your dog to feel bonded to you. 
Get them gardening
Dogs relish being in the outdoors whatever the weather. Your garden brings benefits for you and your dog. It reduces stress, improves sleep and keeps canine senses fine tuned. Give your dog a paddling pool in warmer months. Ensure the garden has safe, secure fencing, with a place for your dog to shelter.
Follow your nose
Dogs need to use their senses and brain to keep at peak fitness. Show your dog a treat, hide it in a hand and get your dog to pick which one it is in. Play hide-and-seek with treats or a favourite toy. Teach your dog to track scents with an essential oil made for dogs; add a couple of drops to a ball, and play fetch indoors.
Look who's walking
Regular exercise is crucial. It stops your dog getting bored, can help prevent or alleviate arthritis and other joint issues, and keeps mind and muscles switched on. You'll also reap the rewards of fresh air and exercise while nurturing the bond between you and your dog.
Featured in The Telegraph.
Laughing Dog..making the nation 100% dog happy since 1936!