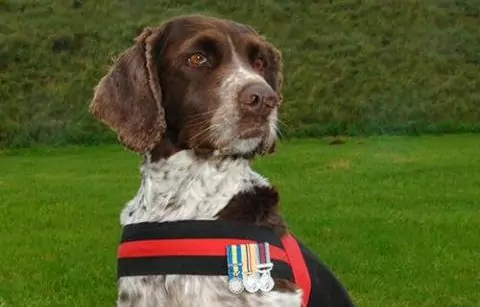 Dogs are not only our best friends, but incredible life savers, says Rachel Tierney
Laughing Dog makes dogs happy with wholesome, delicious food baked on the Grant family farm in Lincolnshire. This year the company celebrates 80 years of helping owners nourish their four-legged friends with its oven-baked goodness. Our canine companions deserve the best: dogs have astounded us throughout history with their bravery and devotion – from wartime deeds to search and rescue, from loyal companions who reveal the true meaning of commitment to guide dogs, and dogs trained to sniff out diseases. Here, we look at some amazing dogs that have played an important role in human lives.
Sergeant Stubby 1916 -26 Born in 1916, Sergeant Stubby served in the trenches of the First World War, catching a German spy, saving lives and becoming one of the most decorated dogs of all time. In his first year of service he was injured by mustard gas, leaving him with a life-long sensitivity. Trained to warn of impending gas attacks, Stubby saved many lives. He would locate injured soldiers outside the trenches, listen for the sound of English, then bark until medics reached them. His portrait hangs in the Smithsonian Institute.
Endal 1995 -2009 Labrador retriever Endal was lavished with awards, including the title "Dog of the Millennium". Endal suffered from a debilitating joint condition, yet his intelligence and skill led him to become the service dog for Allen Parton, an ex-Royal Navy chief petty officer injured in the Gulf War. The first dog to use a cash machine, he could also open doors, load and unload  washing machines, and put Parton in the recovery position if he fell unconscious. Generally, Endal spent his incredible life defying everything we knew about the limits of canine capability.
Buster 202 -2015 Buster was a Lincolnshire springer spaniel who is said to have saved a thousand lives over his career as an arms and explosive search dog serving in Afghanistan, Bosnia and Iraq. He completed more tours than any other military dog – searching for bombs and booby traps, and giving advanced warning of suicide bombers. He became the official lifetime mascot of the RAF police, and as well as a cheering tonic for the troops, he also befriended many a local Afghan child, being dubbed a "canine Pied Piper".
Mij, 2003 – The border collie has saved more humans than any other UK rescue dog. In seven years' service, Mij has found 14 missing people, including an elderly woman that a 100-strong search team had almost given up hope of finding. She was diagnosed with stamina-killing health issues but owner Iain Johnson developed with Mij a new narrow scent-discrimination technique that has since been more widely adopted.
Laughing Dog…making the nation 100% dog happy since 1936!
Image credit: http://www.raf.mod.uk/
Featured in The Telegraph.