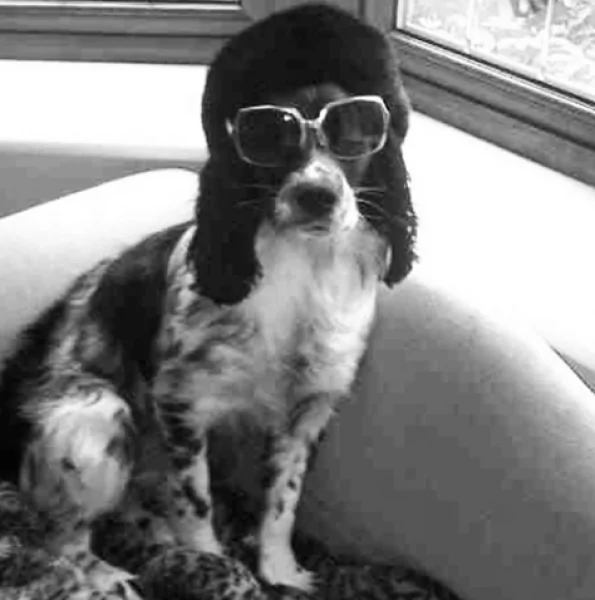 This month has seen glorious sunshine mixed with short sharp frosts, as well as rain. But fear not, summer is fast approaching and we all cannot wait…
It's been a busy month for those little four-legged friends of ours and their two legged counter parts who have been creating the happiest of #DogHappy moments to share with us, here at the Bakery HQ.
For June, our bakers chose Layla as our #doghappymoment of the month because with that adorable face, we couldn't possibly have chosen any other dog this month!
Here's Layla's fun little fact file:
Name: Layla, Layles, Crubs, Crubby
Breed: English Springer Spaniel
Age: 8 years
Personality: She is so intelligent, she doesn't miss a trick! She knows exactly when to play the "woe is me" card, "I'm so precious and innocent", and when to dive straight in like a spoilt only-child and take what she wants! When other dogs approach her on a walk she will act all timid and shy right up until the point they have nearly walked passed her and then she will bark just to show them she isn't afraid anymore and she's actually the boss!
Favourite things: She absolutely loves a day in bed. She hides under the bed if her owners are getting dressed in the morning to go out and gives them that look of "don't go, let's just stay in bed!" If she does get to stay in bed, it isn't long before she pesters for a walk, or for her tea. When she wants something she will put a shoe in her mouth and lead her owners to where she wants them to go! She loves her routine and a dental chew at night before bed. A day of heaven for her is a day at the beach, swimming in the sea and sprinting on the sand. Her least favourite thing in the world is obviously a trip to the vets or the groomers – she will physically shake and refuse to get out of the car! If the hairdryer is used at home she will run out the room and hide!
Top way to raise a laugh: When she knows she has rolled in something nasty or gotten too muddy on a walk she understands it means she has to have a shower. She will walk into the shower and stand very still, staring at the floor, waiting for it to be over. She loves that moment she is finally free to shake it all off and run around again.
Ambition: She loves a game of 'hide and seek'! She will run out of the room so that her owners can close the door and hide her toy, and she will sit patiently waiting. When the door is opened again she will burst into the room like a sniffer dog at work! She won't give up until she has found it, so she hopes to be hired by the government as a detection dog any day now!
Don't forget to share your #doghappy moments with us via our social pages (Facebook, Twitter, or Instagram). We'll enter every #doghappy image into a prize draw to be picked at the end of the year too – so you could win some very tasty treats for you and your four-legged friend to enjoy!
And if you're not sure what sort of delicious and nutritious goodies we make, you can view our full range of Laughing Dog dry and wet dog food here.
Laughing Dog…baking the nation 100% dog happy since 1936!