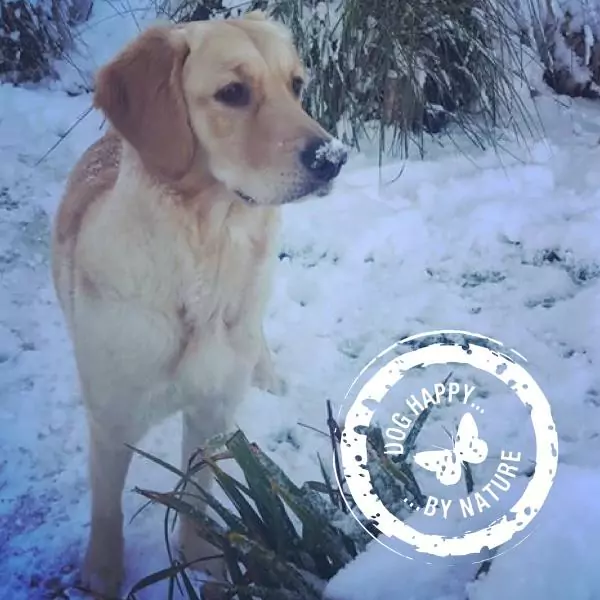 Keeping your four-legged friend 100% dog happy this New Year
It's that time of year when all the family come together to celebrate.  For some it's the busiest time of year, with family and friends regularly popping in. And while for us it's always lovely to have visitors, it can sometimes be a little unsettling for our four-legged friends.
Some of our furry friends can become anxious when there are lot of people around, especially when there are lots of unfamiliar faces and noises in the house (and lots of exciting and new foodie smells floating about!).
Here are a few of our tried and tested tips to help to keep your four-legged friends 100% dog happy and calm this New Year.
–  If you know that your dog will enjoy seeing your family and friends but you want to help keep excitement levels to a minimum (especially when everyone first arrives), dedicate some time to involving your furry friend within your group. Giving your dog attention and slowly introducing them to everyone will make them feel involved and settled from the start.
– If you know in advance that you are going to have visitors and think your dog will be anxious, create your dog a safe area of their own so they can curl up and rest in their own space ahead of the visit.
– It's always a good idea to ensure your four-legged friend has had a good long walk to burn off some energy before staying in with any visitors (and let's face it….we all need a bit of fresh air to break up the festivities!).
– With so much rich food on offer at this time of year, make sure that any visitors to the house know what they can and can't offer your furry friend. Being strict with your visitors from the outset will make the day easier and kinder on your dog. Yes, the chocolate sweeties might seem temping to your visitors, but they might not realise that they can make your dog poorly. Why not have some special doggy treats on hand? Our oven-baked night treats with chamomile and passionflower are a firm favourite…and also help aid relaxation…!