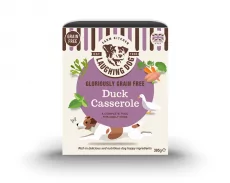 There's something new simmering away at Laughing Dog…
After making dry dog food at our family farm in Lincolnshire for three generations, we are very excited to announce that our Farm Bakery has had an extension….we are now proudly serving fresh from our new Farm Kitchen,  Gloriously Grain Free wet adult completes.
Made with natural ingredients, including a unique superfood blend of botanical herbs, green and root vegetables for antioxidants and B vitamins, as well as delicious extras like yucca, cranberry and seaweed, these new wet grain free completes contain no added artificial colours or flavours and are completely hypoallergenic.
Brian Allen, Laughing Dog's General Manager, explains the launch: "This is a hugely exciting time for Laughing Dog and we are absolutely thrilled to be able to offer wet dog food recipes.

"We pride ourselves on using only the best quality ingredients, and our wet completes are no different – our expert nutritionists have developed grain free completes that are packed with both delicious flavour and essential nutritional benefits. Our gently steam cooked wet completes are an essential accompaniment to our existing dry grain grain free mixer meal and completes."
Laughing Dog's Gloriously Grain Free wet completes are available in three flavour varieties: Lamb Hotpot, Chicken Casserole and Duck Casserole as 395g trays and shortly as 150g pots and a multipack.
Here at Laughing Dog we are always busy baking dog food, creating our delicious dry completes, mixer meals and treats in both wheat free and grain free dog food varieties. Laughing Dog's Farm Kitchen range of wet completes is completely grain free and is gently steam cooked. While the entire Laughing Dog wet and dry food range is hypoallergenic, it is enjoyed by all dogs, not just those with sensitive stomachs.
View our Laughing Dog range of dry and wet dog food here.