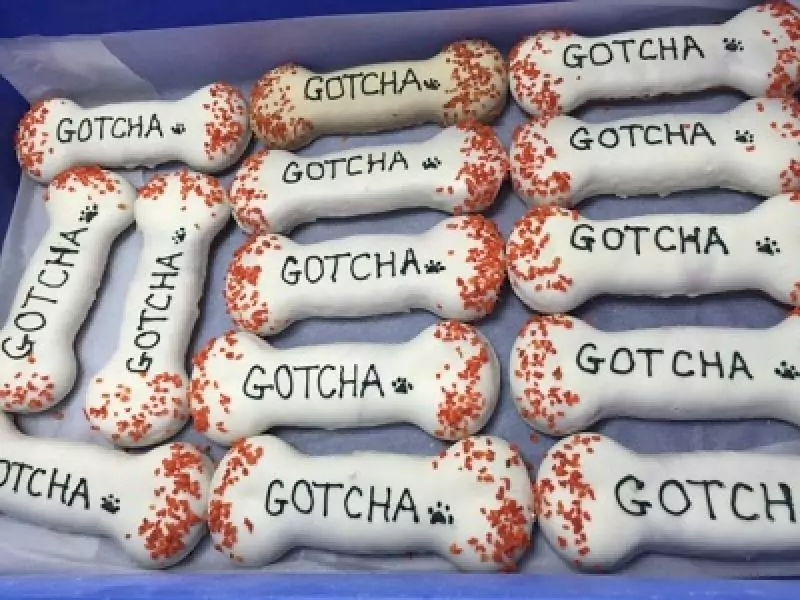 Here at Laughing Dog HQ we are delighted to be working with our friends at Jerry Green Dog Rescue. With five centres in Lincolnshire, Nottinghamshire and Yorkshire, the charity re-homes dogs who have been abandoned, finding them loving and caring new homes. To read the happy stories of how dogs are found new families and find out how you can help, click here.
The charity's Gotcha Campaign
This exciting campaign is a chance for adopters to celebrate their dog's 'Gotcha Day' with Jerry Green; a chance to make an event of their first anniversary with their new doggy friend. Adopters will be able to post photos of their dogs on social media, sharing their joyous and happy moments. As part of this exciting celebration our bakers have been busy making a batch of their very special slow-baked biscuit bones, icing them with yoghurt frosting and then decorating them with carrot sprinkles and the all important words: 'Gotcha'. Delicious! These special bones are now making their way to Jerry Green…!
To keep up to date with Jerry Green's Gotcha Campaign, or to find out more about this wonderful charity's work, visit Jerry Green's Facebook page.