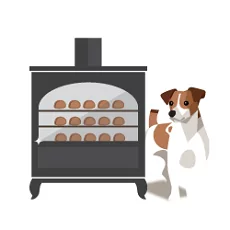 For over 80 years we have been slowly oven-baking our range of dry completes, treats and mixer meals. Now as part of our 80th birthday celebrations, we have partnered with The Telegraph! You will see articles in the newspaper's Living magazine as well as online, covering everything from our history and farm bakery, through to our wholesome farm-grown vegetables and why we firmly believe that baking really is best for our four-legged friends.
In addition to this, you will see articles celebrating dogs that have played an important role in history as well as tips for how we can help to make your dog happy and healthy.
We are also giving away a deliciously slowly oven-baked prize to one lucky dog – not only can your four-legged friend win a year's supply of Laughing Dog food, but a scrumptious 'dog happy' hamper packed with dog treats (including our Wonderfully Wheat Free treats, as well as our Gloriously Grain Free white fish treats), a handmade Laughing Dog bowl (perfect for those Laughing Dog suppers!) and a beautiful Laughing Dog jute bag.
To enter our competition, visit The Telegraph website at tgr.ph/laughingdog