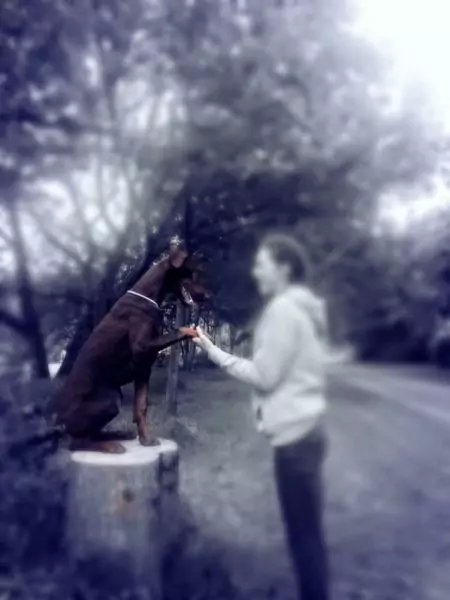 This month has seen glorious sunshine mixed with short sharp frosts, making the ground glisten and speckles of the lightest fairy dust-like snow coat everything in sight…
It's been a busy month for those little four-legged friends of ours and their two legged counter parts who have been creating the happiest of #DogHappy moments to share with us, here at the Bakery HQ.
We're very grateful to everyone who has shared with us a picture of their precious pooch and can't wait to see what April brings. The second of our #doghappy moments for this year is a beautiful capture.
This month's #doghappy moment has gone to Eb Judge and his gorgeous Doberman, Brandie.
We thought this picture epitomised the dog happy moments all of us here at Laughing Dog exist for and strive to honour. The definition of man's best friend was captured beautiful in the 'hand meets paw' moment Eb and Brandie shared honouring in real life, our dog happy motto to 'Love, no matter what'.
Remember to share your dog happy moments with us at bakery@laughingdogfood.com or on our Laughing Dog facebook page and as a thank you for sharing your adventures with your four-legged friend we will enter you into a free prize draw for the chance to win lots of baked-to-perfection goodies!
Laughing Dog…baking the nation 100% dog happy!