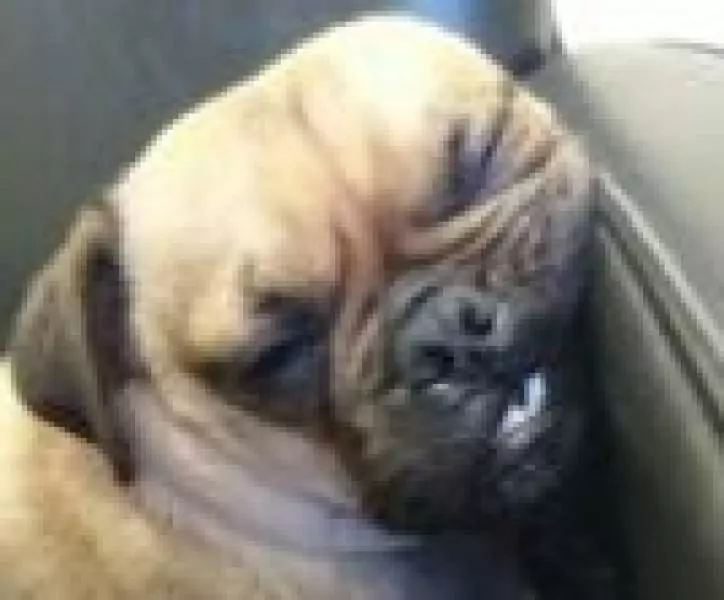 This month has seen glorious sunshine mixed with short sharp frosts, as well as rain. But fear not, summer is fast approaching and we all cannot wait…
It's been a busy month for those little four-legged friends of ours and their two legged counter parts who have been creating the happiest of #DogHappy moments to share with us, here at the Bakery HQ.
For May, our bakers chose Boss as our #doghappymoment of the month because with those big brown "what about ME" eyes, we couldn't possibly have chosen any other dog this month!
Here's Boss' fun little fact file:
Name: Boss, Bossy B, Boston Bear
Breed: ¾ Pug ¼ Chihuahua
Age: 1 year 7 months
Personality: He is a law unto himself! He does what he wants, when he wants and knows no fear – he will happily go up to the biggest dogs on walks and try to kiss them! In fact he greets everyone he can with lots of kisses and makes a habit of climbing on your shoulders to chill out or eat your hair. He did this when he was tiny but doesn't understand he is too big to do it now!
Favourite things: He absolutely loves meal times – obviously! He spins around in circles waiting for the bowl to hit the floor so he can devour his duck casserole! He has full reign of the house and countless soft furnishings to choose from, but without fail his chosen place for a little nap is always balanced on Mummy's legs. He loves going on runs with his Mummy and will charge ahead but when he is tired he will run in-between her legs to try to tell her it is time to go home! His favourite thing in the summer is to go swimming in Mum and Dad's swimming pool, and whilst swimming he tries to eat the water!
Top way to raise a laugh: He seems to have a chip on his shoulder when it comes to other animals on TV! He will jump up and bark at the television, as if he is saying "That should be me – I'm a star!" He has a hilarious walk for when he isn't sure what something is, he will walk so slowly towards it with his legs straight and will slightly shake whilst doing it!
Ambition: He has a part time job as the office dog but he loves helping his Mummy do her make-up. He has to be on her lap close to the action, watching how she does it, so maybe there will be a career change to chief make-up artist one day!
Don't forget to share your #doghappy moments with us via our social pages (Facebook, Twitter, or Instagram). We'll enter every #doghappy image into a prize draw to be picked at the end of the year too – so you could win some very tasty treats for you and your four-legged friend to enjoy!
And if you're not sure what sort of delicious and nutritious goodies we make, you can view our full range of Laughing Dog dry and wet dog food here.
Laughing Dog…baking the nation 100% dog happy since 1936!