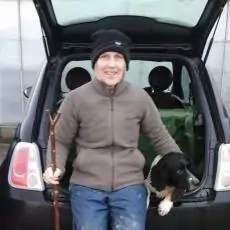 This month we've caught up with Julie Green, our technical manager. Julie looks after food safety and quality and her team of expert nutritionists are in charge of creating all our delicious Laughing Dog recipes, ensuring the naturally wholesome ingredients that we use are all working together to provide complete and balanced nutrition. Nothing gets passed Julie and her team – we believe in simple and wholesome nourishment, so every ingredient that goes into the mixing bowl must be working hard to do a job.
As well as ensuring that our Laughing Dog products are created to the highest of standards, Julie and her team also work closely with Laughing Dog customers wishing to ask specific dietary questions.
Julie is a busy lady to track down, but luckily she was able to spare us a few minutes to explain why she loves working at Laughing Dog.
What do you enjoy the most about your role in the Laughing Dog team?
Putting a recipe together, seeing it successfully run in the bakery and then seeing the dogs enjoy eating it.
In your opinion, what's the best Laughing Dog product in the range?

Personally I feed wheat free, so the lamb is the best one for me.  I like the lower protein and fat level you tend to get with wheat free diets.  I think carbohydrate is important for energy.
Why is having wheat free and grain free ranges so important?
So that people have a choice dependent on their dog and lifestyle.
What's your favourite ingredient that we use in our Laughing Dog food?

The vegetables and I like it because we keep the recipes simple.
Why do you think Laughing Dog is so popular with dogs?
The baked in goodness and crunchy biscuit.
As you know Julie, we love hearing about your springer spaniel Basil too. What's he been up to recently?
This is a photo of Basil on the highest point of the Wolds at Sunset, taken at West Keal. It's the end of the working day. Basil is three now and is the first dog I have ever properly trained. He is so good now that other people in the family are working with him, but he knows I am still his mum. He lives with four other springers.
Springers are hard to train. Someone once drew a picture once of a human and a dog going from A to B and they go in a straight line, whereas a springer is side to side, side to side. This is what makes them such good workers, they just love it and when they get a scent their head goes down and their tail up. If they are trained properly they are such a joy and to hear other people say how good Basil is, makes me really proud.
People don't ask where is Julie, just where is Basil!