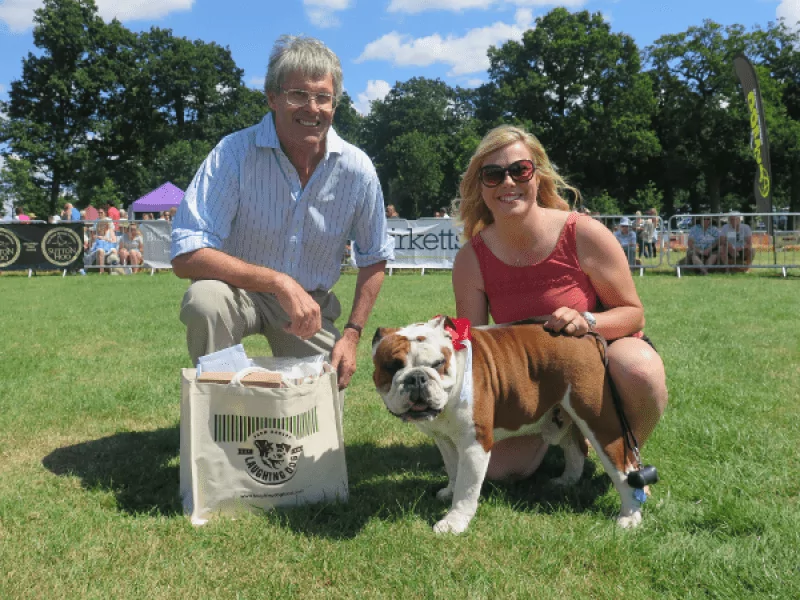 The beginning of August saw us venture South to the Suffolk Dog Day – a fantastic doggy day out in the heart of the Suffolk countryside held in the beautiful grounds of Helmingham Hall.
It's a lovely day set up to raise funds for the Suffolk Community Foundation; a foundation which helps locals give right at the very heart of their community and intervene in some of the hardest to reach communities. We were sponsors of their Best Pedigree Class which had a strong 87 entries – we wondered if we'd missed the memo inviting us to judge 'Britain's Next Top Dog'!! as there was some fabulous talent parading around the ring! With an astounding 6200 people crossing the entrance over the cattle grids, the dog day saw 1218 dog entries across the classes – now that's certainly some tails to keep wagging! We had the most enjoyable of #doghappy days and certainly managed to capture some super #doghappy moments whilst meeting lots of beautiful four-legged friends.
Earlier in June, we delved into the world of horticulture and all thing flowery with a very busy four days at BBC Gardener's World Live, a fantastic show which combines itself with the BBC Good Food Show and is held at the NEC in Birmingham – we were delighted to see lots of friendly faces and trusty fans of our slowly oven-baked foods as we continued to spread our passion for baking the nation 100% dog happy to lots of new faces. Those canine companions certainly seemed to be the lucky ones with all of their two-legged counterparts buying more goodies for their furry friends than themselves…and we think that that is just the way should be!
We got home from Gardener's World Live and after a superb team effort to pull off a quick turnaround (we had a day!), headed off to The Lincolnshire Show, our local county show. It is a fantastic, fun-filled two-day show which is full of excitement for all ages – everything from the Red Arrows displays through to the popular Dog and Duck show – a comical yet information display involving both dogs and ducks and led by self professed 'Animal Kid', Stuart Barnes. We had TED, our 1951 vintage Morris J-Van on display with a dog-friendly tombola and photo booth and another stand in 'The Mews' their boutique style shopping area where we saw lots of chief tail-wagging tasters who sampled the wheat free and grain free delights we had on offer. Thankfully our request to the weather to be kind was acknowledged and we managed to stay dry for the majority of the two days (well…almost).
Next stop Burghley – it's the 55th Land Rover Burghley Horse Trials this year running from 1st -4th September and we're taking TED on his very first outing there. You will be able to find him in all his glory outside the Maker's Marquee. We'll also be exhibiting in our usual spot, nestled in the main Country Living Tent so do pop and say hello!
Laughing Dog…making the nation 100% dog happy since 1936!