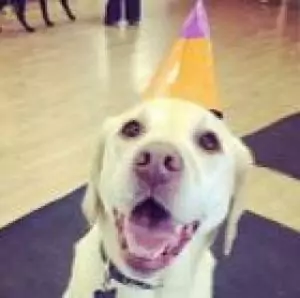 Toby is a 7-year-old rescue boy with a mischievous personality. His favourite thing in life is food (Laughing Dog food of course!); he enjoys eating anything and everything, edible or not.
When Toby's not eating, his perfect dog happy day is going anywhere that has water so he can swim around and meet more doggy friends to play with.
His funniest trick is to open the baby gate which is meant to be dog proof…. it's definitely not Toby Proof!
Thank you Toby for sharing your dog happy days with us.
If your four-legged friend would like to share their dog happy days with us, pop a photo on any of our social feeds. Our favourites will be sent a goodie bag of our naturally grain free and delicious treats!