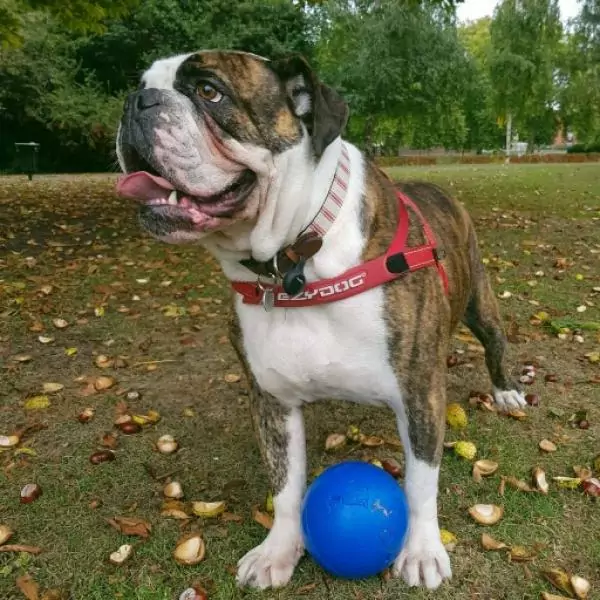 Name: Hagrid
Age: 1year 8months
Breed: Old Tyme Bulldog
How you came to be together?
We rehomed Hagrid from Battersea Dogs Home. I have always grown up with dogs, and whenever my husband and I came home from my parents' home (they have two of their own) we always felt like the house was a little too quiet and so we started looking into getting a dog of our own.
Having recently moved to Woolwich and having suffered with my mental health, it seemed like to the perfect time to expand our family and give a pooch a loving home. We'd certainly never considered a Bulldog, but having registered with Battersea they sent us a photo of our gorgeous boy asking us if we'd like to meet him? They told us his previous owner had said he was aggressive, was possessive with toys and not good with other dogs. He was also fed table scraps and didn't have a proper diet.
Battersea however, had seen none of these traits at all! Hagrid looked like a total cuddle monster so naturally we couldn't wait to meet him! On our first meeting, he bounded across the room with a great big smile, slobbery chops flying everywhere and buried his face in my lap. He then proceeded to roll over so we could rub his belly. The boy was clearly a total softie and loved nothing more than a cuddle and human contact.
In our 6 short weeks together, he has really come out of his shell. When we first bought him home, he was a little nervous of other dogs and wouldn't play. Then, he would only play with one small dog at a time, if others came along he would back away. Now he gets stuck right in with lots of different dogs, big or small! Previously when off lead he would not really go off and explore and now he can't wait! He runs around with his buddies and enjoys the odd zoomies and sniffs, even if he is a little clumsy. We really cannot imagine life without him now. He's got so much character, loves to learn and is just such a goofball! He makes us smile even on the darkest of days.
Personality: Being a bulldog he is very stubborn and highly food motivated.
Favourite Things: Morning cuddles in bed with mum and dad, small furry toys which squeek, wrestling his pals, snoring, chewing and destroying old pyjamas, attention
Top Ways To Raise a Laugh: As Hagrid wasn't really walked by his previous owners, his front paws can get a little tender and so we got him booties. He walks like a space man when they're on!
Ambition: Eat, Sleep, Snooze repeat…he's totally content so long as he gets cuddles, naps and food