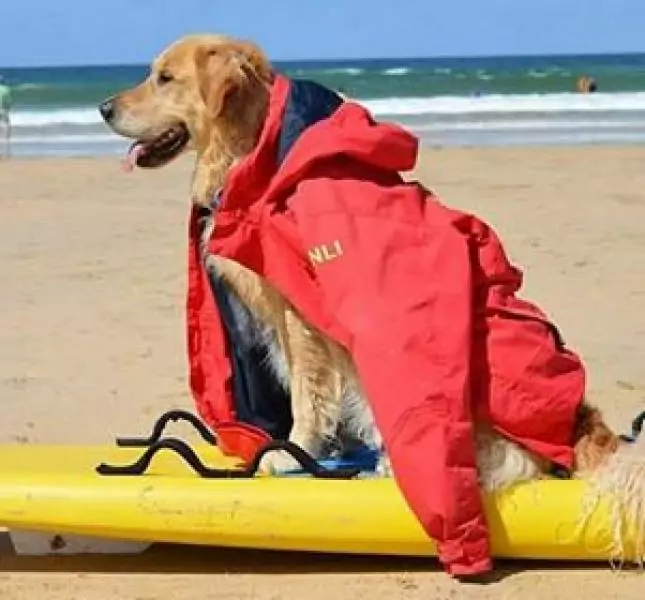 This month, our winning picture as chosen by our bakers was of Charlie – a golden retriever embracing the seaside and the RNLI lifeboats too! He was pictured on his surfboard wrapped in a RNLI coat to keep warm; a very #doghappy moment indeed!
Here's Charlie's fun little fact file:
Name: Charlie
Age: 8 very wise years old
Breed: Golden Retriever
Personality: 'Just because you get older, doesn't mean you have to grow up'
Favourite things: Being a true beach babe, he loves everything sea and sand. He loves splashing in the waves and finding stones, and just like the rabbit holes he likes to find, the bigger the better! He's a true people person and, like us all, has a penchant for a spot of bird and people watching whilst laid out on the front at home. He goes mad for tummy tickles and has a soft spot for BBC Countryfile – whether that's a soft spot for Ellie Harrison or all of the wonderful wildlife he spots on the programme, we'll never know!
Favourite place: Definitely a beach babe..Whether in Norfolk on Sea Palling beach or in Cornwall at Gwithian beach.
Proudest achievement: He is a registered P.A.T dog and visits care homes and the nursery where his 'hoomummy' works. Keep up the good work Charlie!
To get involved in next month's feature, visit Cornish Cottage Holiday's facebook page.
Laughing Dog…making the nation 100% dog happy since 1936!