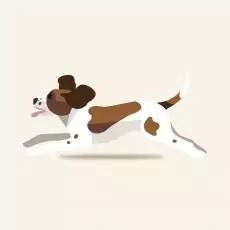 It's always a question you hear dog owners asking…should I or shouldn't I feed my dogs a raw food diet. Well, Andrew Ashcroft, from Laurels K9 Academy has been working with dogs for over 35 years and has a wealth of experience and knowledge. He has a training academy based in Lancashire and has trained dogs across all areas from those for the British Transport police, through to protection dogs, search dogs and even those which make it to onto the TV and film screens. He's shared his thoughts on whether you should indeed BARF or not to BARF…
"As a parent myself, from the moment a child is born we all get advice on the do's and don'ts of raising children on their dietary needs. Whether it comes from health visitors, our own parents or advice handed down from generations before us, everybody knows best.  I remember my own grandmother doing so on raising our daughter Jodie, but ultimately that decision lay with my wife and myself on Jodie's nutritional upbringing. Generations of children have even raised with old fashioned values and dietary needs, surely generations can't be wrong. No matter where the advice comes from we all pick advice up here and there, sometimes it's for the good and sometimes for the bad, but that duty of care lies with us. We want the best, why would we not! After all it's our child. I read on the internet recently and the paragraph stuck in my mind. "Providing food for our dogs is like the parent/child dynamic that in many ways characterises our bond with our pets."
I have worked with animals for 40 years, 35 of those years are with dogs. Over the last 20 years I have seen the pet food market open far and wide, it's a minefield out there. It's back to the same analogy with our child, everybody knows best, all we can do is pick what we think is best. On my own experiences from working with German Shepherds and Rottweilers I have looked after many, many dogs and experimented with lots of dry dog food from many leading brands. In my opinion and it's just an opinion through all my years of experience, for the last few years I have fed the BARF diet, for some people they would say this is crazy because dogs aren't getting the nutritional value that they need. Like I said earlier, everybody knows best and as far as I am concerned 1 million years of evolution is not good enough. I like to choose what I feed my dogs so I'm the one in control just like I was with our children. I like preparing food for my dogs and I find this a really rewarding part as I bond with them.
If we look at a feeding program for ourselves and our families we try to look at the right blend of ingredients in our home made diets so that we get the best nutritional value. They have been lots of studies on BARF diets, notably a big study was done in 2001. It showed deficiencies in potassium, zinc, calcium phosphorous and the list goes on. As I write this how many of us that have dogs are feeding the right diet to ourselves? I remember the last time I went to the doctor and discussed my own diet, there was some good advice. I'm not disputing that but if we listened to all that we can and can't put in our bodies we would never eat, and the advice is changing all the time with doctors.
As a result, I feed our dogs raw minced chicken and fresh untreated tripe along with a good quality biscuit. I have looked at many mixer biscuits to put with my raw diet food and I chose the wheat free baked mixer meal from Laughing Dog. I have looked at the composition of this mixer meal and for me, it ticks all the boxes for my dogs. After looking at many mixers over the years, none have come close to Laughing Dogs baked mixer biscuits. People ask me this question all the time. "Are raw foods safe when it comes to feeding dogs?" My own personal answer is as long as the source of the meat is of good quality then I have no qualms about feeding it to my dogs. There has also been lots of studies on handling raw meat, when it comes to it, hygiene is paramount. It's common sense, use gloves when preparing food, ensure any forks or spoons are kept separate from ours, disinfect after each meal (bowls, utensils, work boards etc); it's no different to preparing a chicken for Sunday lunch, you still have to be clean and have good hygiene levels.
As a finishing note, you will always get those for and against, but at the end of the day, it comes down to each individual's choice, just like it does when rearing our own children."
Here at Laughing Dog, we believe that every dog deserve to be 100% dog happy, with our range of slowly oven-baked, hypoallergenic wheat free and grain free complete dog foods, treats and mixer meals and now our range of Farm Kitchen wet completes, we are passionate about keeping dogs 100% dog happy, healthy and full of vitality, whatever feeding option you choose for your favourite four-legged friend.
Laughing Dog…baking the nation 100% dog happy since 1936!
(Image credit: thumbnail image http://www.healthyfitdogs.com, this page: http://allthebestpetcare.com)