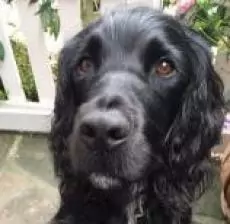 It was a tough decision for our bakers, but loved Gus' mischievous face and cupboard love story.
Gus is a 5-year-old Sprocker. After many years of his hooman mum debating on getting a puppy, she took the family to visit and they fell in love with Gus before he had even opened his eyes. He was a determined little puppy that managed to climb over his siblings, nuzzling his way through for food, whilst upside down. Ever since then their love has gone hand in paw.
Gus and his hooman mummy both love their food but they enjoy nothing more than walking along the sea front near his home, running through the mud, bounding in the shallows and swimming along the canal hoping that one day he'll actually catch up with those elusive ducks, with his mum hoping that he doesn't!
With many tricks up his sleeve, knowing which one to do to gain a treat is Gus' hardest decision of the day, high-five, roll-over, spin on the spot or figure of eight… 'maybe if I do them all I will get more than one treat?'
Gus' favourite place is the Blackwater Estuary at Hybridge, on the Essex coast, with the variety of landscapes, and the dog friendly tearooms, that Gus and his furry friends are delighted to relax on at the end of a busy trip!