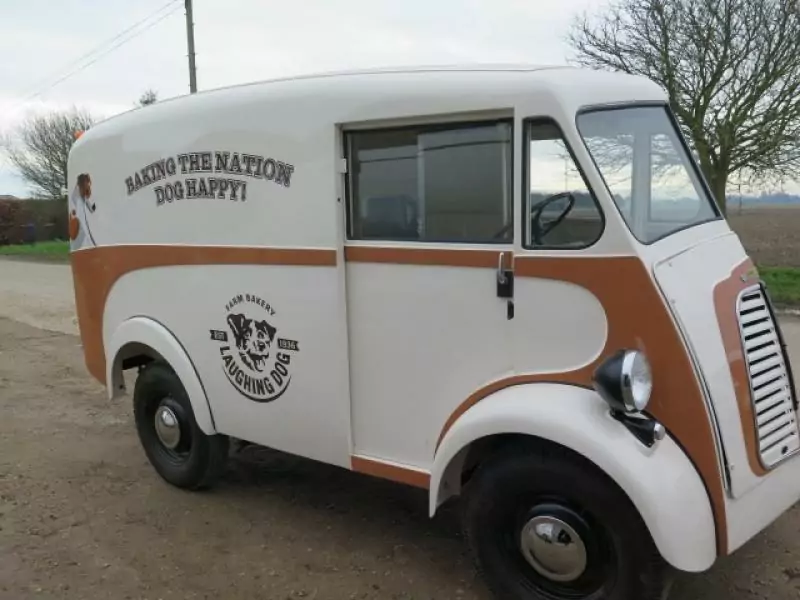 TED  is one of 44,000 Morris J type vans built over the 10 year production period which began in 1948 after their introduction at the Earls Court Motor show. These little and light vehicles were designed for the Post Office, Telecoms and government planning offices for use as small commercial vehicles but additionally used by many small businesses around the UK.
Built early in 1951, our Laughing Dog example was the 18th oldest vehicle known and is one of roughly 400 vehicles of this type left today predominantly due to the original construction methods used which led to severe corrosion problems and in part due to the lack of interest shown from enthusiasts and restorers to take care of these vehicles. Times however have changed and they have become a rare collector's item due to the memories they evoke and their quaint appearance.
Our Laughing Dog J van, which has been named TED in a nod to our farm bakery founder, Ted Grant, has been restored to its former glory by Ted's grandson, William, who has a very keen interest in metal work. Because of the poignancy of the vehicle from the moment of its unveiling, it has become an extremely important and integral addition to our Laughing Dog brand.
Little is known about 'TED's early history, however the 'YM' letters which are present in the number plate tells us that it was delivered to Central London and at some point the work to convert it into a minibus was believed to have been carried out by Martin and Walter, a well-regarded company in the 1950s due to their ability to covert light commercial bodies into camping conversions.
When William started the restoration process which began on 26th January 2015 at his workshop in Boston, Lincolnshire, he wanted to restore it to the original condition of how it would have been delivered from the factory. However, no sooner did the work begin and it became evident that there was very little which could be repaired (when the body was shot blasted it was likened to looking like a paper doily!) due to the original body condition being so poor because of high levels of corrosion and make shift repairs – with much of the front end being a mixture of parts from a washing machine and fibreglass!
William scoured all over the country (often in the most unlikely of places) and luckily found a rear section in a scrap yard in Stoke-on-Trent. From this he built the remainder of the vehicle, by hand using traditional metal working techniques which have been in use for over a century to ensure that the replica pieces were indistinguishable from the original factory items.
1750 work hours later (just on the body alone), a huge learning curve and a firm understanding of how sheet metal behaves, 60 different sections made up from 480ft of sheet steel were produced to comprise the cabin portion of the van. These were shaped largely using the English Wheel, mechanical hammers or simply beaten over formers that took the shape of the original part to be copied.
The chassis was cleaned and repainted and everything was pieced back together before the engine, a later unit with increased performance, was reinstated along with the remaining items to complete the vehicle. The engine is the only item which is not true to the original condition of the vehicle.
To finish the van in a true authentic style, the van was sign-written by Mervin Dove, a skilled craftsman also based in Lincolnshire, the heart of Laughing Dog, who has over 50 years of experience and is one of only a handful capable of such work in the UK. This process involved hand painting the script and images which you can see present on the van with a small brush following a charcoal rubbing as a guide.
Now fully restored to a most glorious condition, TED will be touring the country to help us on our mission to bake the nation 100% dog happy!
For details of the events we'll be attending click on our events diary.
Laughing Dog…It takes a little longer to make, but we think it's worth it!