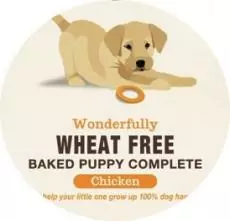 Baking the Nation's Puppies 100% Dog Happy…!
Laughing Dog Launches New Wheat Free Puppy Complete
We are very excited to announce the launch of our BRAND NEW Puppy Complete. Carefully prepared on our family-run farm, in the heart of the Lincolnshire Fens, our new Wonderfully Wheat Free Baked Puppy Complete replaces our original puppy complete food.
Working with our experienced team of bakers and nutritionists, this new hypoallergenic recipe has been  re-crafted to ensure for wholesome puppy nutrition, and sees a change in biscuit size – moving from a crushed to a perfectly formed puppy-sized kibble.
Brian Allen, General Manager at our Laughing Dog bakery, explains the move: 'Unlike many other dog foods on the market, we make all of our food ourselves – using many of the wholesome ingredients we grow on our family farm. Re-launching our dry puppy complete ensures our farm-baked recipes are continuously developing to guarantee nutritional excellence and, in this instance, ensuring for all the nutrients a puppy needs to stay 100% happy and healthy.'
Wonderfully Wheat Free Baked Puppy Complete is made from our farm grown barley, providing an excellent source of fibre, along with oats for slow release carbohydrates. As well as vegetables for vitamins, the puppy complete includes linseed for its omega 3 levels – helping to maintain healthy skin and coat. The recipe is single species, meaning chicken is the only meat-protein source used in the puppy recipe.
Why is Laughing Dog's Puppy Complete Slow-Baked?
For three generations, we have been baking our dry dog food. While this is a much slower cooking method compared to other conventional cooking processes (like extrusion) which involve high speed and pressure, we firmly believe that baking is the best way to protect the natural goodness and taste of the delicious ingredients we grow and source ourselves, is gentler on tummies and creates a crisp, crunchy kibble, which can help keep teeth clean and breath fresher.
A Wheat Free Puppy Complete to Make All Puppies 100% Dog Happy…!
While our hypoallergenic Laughing Dog farm bakery range is available in wheat free and grain free varieties, it is enjoyed by all dogs, not just those with sensitive tummies. Even the fussiest of dogs love its deliciously baked taste. No artificial ingredients are included. Wonderfully Wheat Free Baked Puppy Complete (2kg and 10kg) is available to buy online at www.laughingdogfood.com as well as in all good pet shops.