Grain Free Dog Food
Our grain free dog food recipes can help keep sensitive tummies 100% happy!
Some dogs, like humans, can have sensitive stomachs and skin. They can also have adverse reactions to cereals and a specific need to avoid grains, or simply pet parents prefer to feed their dog a grain free diet. Many modern dog foods contain grains that are sensitive to many dogs. This is a key reason why many owners choose to switch to a grain free dog food diet.
What is grain free dog food?
A grain free dog food is considered to be any dog food manufactured to contain no added grains such as wheat and cereals. These include carbohydrate ingredients such as rice, oats, wheat, barley, sorghum (an ancient grain), and maize.
There are many common misconceptions and lack of clarity around the differences between grain, wheat and gluten free in the dog food industry. Mostly because of the diverse range of different grains and cereals available in dog foods, some which contain wheat or wheat gluten and others that do not. As a grain-free food should not contain wheat or any grains, it therefore would be wheat free and wheat gluten free as well as grain free and gluten free. However, it is important to note that a wheat free dog food may not be gluten free – barley, for example, is wheat gluten free but still contains gluten.
What is the difference between grain and wheat free dog food?
As explained above, a grain free dog food is considered to be any dog food manufactured to contain no added carbohydrate ingredients from the grain family such as rice, oats, wheat, barley, sorghum and maize. It is therefore grain-free, gluten-free, wheat-free and wheat gluten free. However, a wheat free dog food is not necessarily grain free. Wheat is a type of grain, but excluding just this grain from the ingredients does not mean other grains are not in there. Wheat free dog foods can therefore contain grains such as barley which is wheat and wheat gluten free, but still a grain.
Should I choose grain free or wheat free dog food?
Some dogs need a special diet due to adverse reactions to grains, and have been advised by a vet to exclude wheat and/or grain from their diet. Based on the individual needs of the dog, a vet will determine whether or not you need to opt for a grain or wheat free dog food diet. However, many pet parents opt for a grain-free dog food on the misconception that it is carbohydrate free and therefore healthy. Although a grain free dog food is free from some carbohydrate grains, the dog food may contain other forms of carbohydrates. Carbohydrate in pet food provides a really useful and readily available source of metabolisable energy and fibre, so it isn't something to be leaving out, unless for medical reasons. Many free from grains dog foods will contain white potato or sweet potato as carbohydrates, which are rich in antioxidants and a good source of soluble fibre. Most dog owners opt for a wheat free diet if their four-legged friend is specifically needing to avoid wheat, but other grains, for example barley, isn't affecting them.
Laughing Dog's free from grains dog food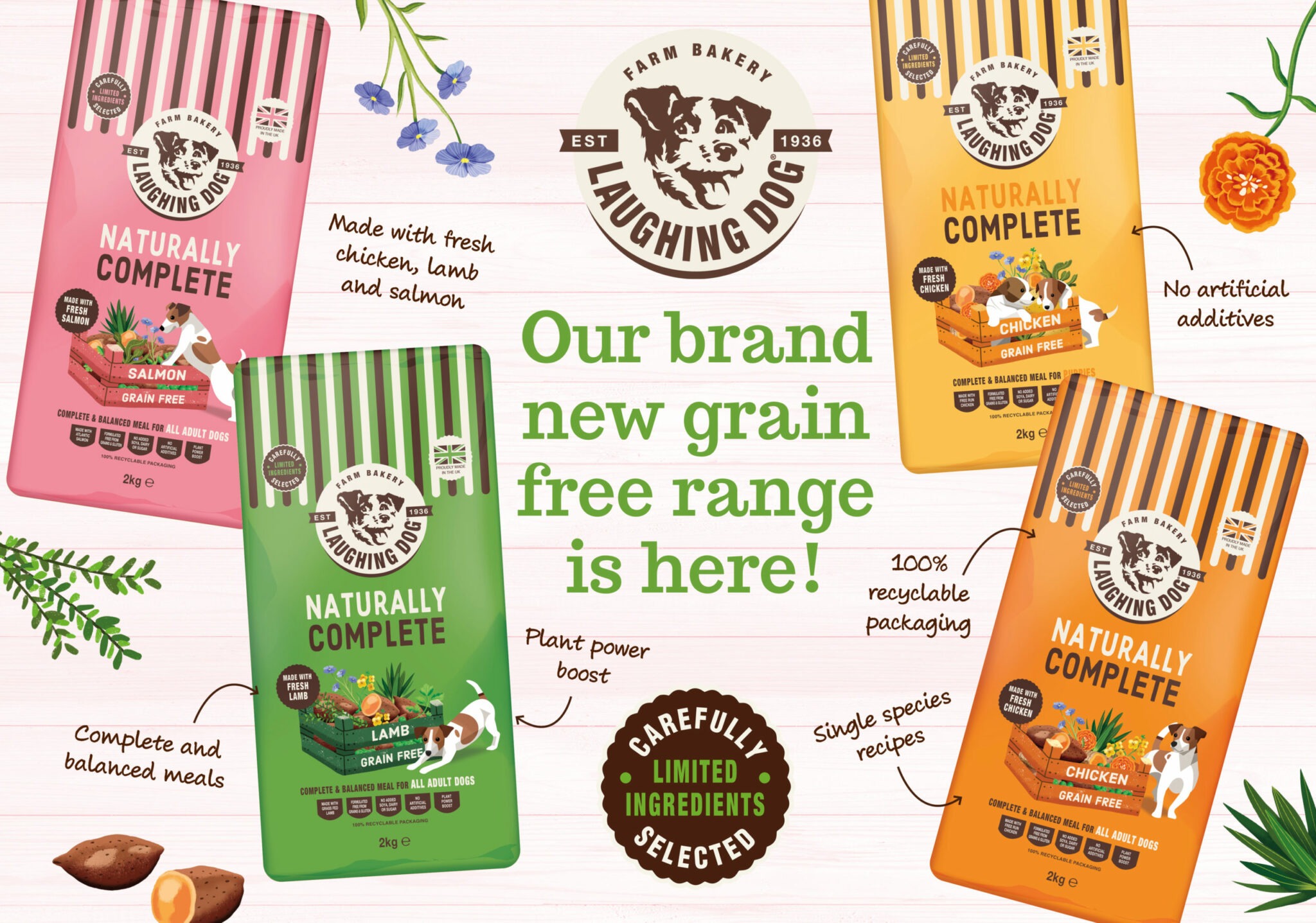 At Laughing Dog we specialise in naturally complete dog foods, grain free and wheat free foods along with baked dog foods. Our naturally grain free dishes are perfect for dogs with an adverse reaction to wheat gluten (because they contain no added wheat) and/or a specific need to avoid grains and gluten in general, as well as our four-legged friends just looking for mealtimes brimming with lots of nourishing goodness and natural foodie flavour. We are proud to say that our range of Naturally Complete dog food, our Gloriously Grain Free dog foods and our grain free dog treats are enjoyed by all dogs craving delicious and nutritious foods – not just those with a specific need for free from grain diet!
We never add anything artificial and firmly believe that natural is best. Our passion is to help keep dogs 100% dog happy and we believe the only way to do this is through simple, nutritious recipes made with wholesome ingredients (and absolutely no mixed meat meal!). Our complete and balanced dog foods have no added soya, dairy, grain, gluten or any added artificial colours, flavours or preservatives.
Our naturally grain free pet food range includes our Gloriously Grain Free Baked Completes (white fish and duck), our new Naturally Complete dog food range (salmon, chicken and lamb), and our Gloriously Grain Free Wet Completes (chicken casserole, lamb hotpot and duck casserole).
And the more sensitive souls amongst us don't have to go without a treat or two because we have crafted a special range of Grain Free Dog Treats. These naturally grain free and gluten free dog treats are perfect as a snack or as pocket-sized training aids. Choose from our grain free Fish & Tricks dog treats (also the perfect training treat for dogs), our Sleep Tight dog treats, as well as our Noon Treats, made with duck and ginger to help aid digestion.
Did we mention that our expert nutritionists have also created the UK's first-ever oven-baked free from grain mixer meal? This deliciously tasty grain free mixer meal for dogs is the perfect complement to feed to our four-legged friends alongside fresh or tinned/trays of meat, our naturally grain-free wet dog foods or as part of a BARF diet to provide some much-needed crunch (and helps to keep teeth clean and breath fresh too!).
Learn more on our very own YouTube Channel!