…It's Doga Time!
Ever heard of dog yoga? This dog-friendly activitiy is growing in popularity as a great way to bond and get fit with your furry-friend at the same time…!
Benefits of Dog Yoga
Not only is yoga beneficial for physical health, it also helps to clear the mind and can help improve sleep. There are lots of trainers offering dog yoya – simply pop online to find a dog yoga workshop for you!
The Pawfect At-Home Workout
Dog yoga is a fantastic at-home workout which is certainly something you can try out during self-isolation. Plus, it is a brilliant way to ensure that you and your four-legged friend keep moving! Why not involve the whole family?
Check-out one of our favourite dog yoga videos on YouTube, where you are offered a step-by-step dog yoga routine that is sure to keep you and furry friend occupied…!
Click HERE to watch a dog yoga how to!
… As you can see, Rachel is having a little trouble getting Layla out of the "Laying Dog" position, but I'm sure with a little perseverance, they will be the next Doga stars on your screens!
Check out more content from Rachel and Layla HERE, to see how else they have been staying dog happy and active…!
Joint Care Treats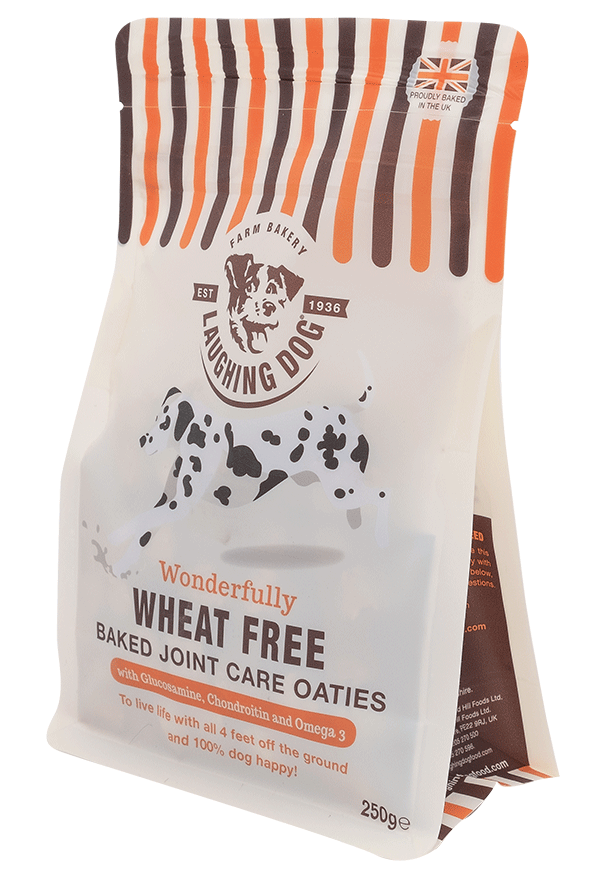 Our naturally Wheat Free Joint Care Treats are the perfect aid for keeping your companion's joints in good health.
Jam-packed with:
Salmon
Good Source of protein and omega 3
Glucosamine + Chondroitin
Help to promote healthy cartilage in joints
Linseed
A good source of omega 3 to help maintain a healthy skin and coat
…and Oats
Provide a slow release of energy
We'd love to see your doga workouts! Tag us on social media and send us your pictures to bakery@laughingdogfood.com!