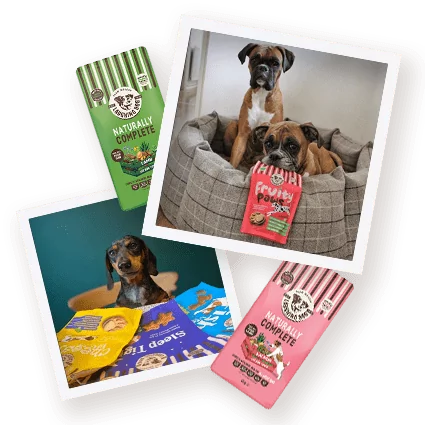 Brits officially take more photos of dogs than of their own children!
ACCORDING TO NEW RESEARCH….
BRITISH DOG LOVERS TAKE MORE PICS OF THEIR POOCH THAN THEY DO THEIR OTHER HALF AND CHILDREN.
Over the last few weeks, Laughing Dog has been busy conducting research with pet parents, and we are so excited to share with you the results…!
Did you know that the average pup owner snaps up to 101 dog pics a year of their four-legged friends – more than they take of their mum and dad, and even their own children?
In fact, it's not just photography where owners are seeing their dogs as key members of the family, with 22 percent of owners secretly admitting they'd like to set their dog a place at the dinner table but worry it's not socially acceptable. Our Laughing Dog study also found that 36 percent of the 1000 dog owners polled claimed they actually communicate better with their dog than they do with their other half, with 39 percent saying they can read their pets' moods better than their partner's!
We know we love taking photos of Layla and Gus down at the farm but it appears we are all snap happy when it comes to our furry friends! We also found some very interesting findings about natural dog food…
The findings from our Laughing Dog study revealed:
52 percent of British dog owners are unashamed that they snap their pooch more than their partner, and a third (32 percent) insist their dog is far more photogenic than their other half.
Over a third confess they have more pictures on their phone of their furry friend than of their own children (35 percent).
During the average year Brits take 44 more photos of their dog than of their own mum and dad.
So, it's no surprise that 37 percent of dog-owners say that, in general, our canine companions have cuter faces than people, with the same number (37 percent) claiming that their own pooch LOVES to have their picture taken.
Three in 10 owners say their pooch is incredibly photogenic, while 15 percent are certain their dog actually laughs when being snapped.
29 percent can't get enough of the fact their dog never complains when they get their picture taken, with 16 percent adding their pooch even has a special selfie face they like to use when being snapped.
30 percent admit they love their dog so much that they can't help but document their life through photos and social media posts – with 16 percent claiming they get the most "likes" on Instagram with their 'poochy' pictures.
43 percent confess they much prefer looking at snaps of other people's dogs than of their kids – even ones of new babies.
A whopping quarter of owners admit they love watching their dog eat (26 percent), with half saying it gives them pleasure to see their dog enjoy their food. A cheeky 13 percent have already begged their family to let their pooch sit with them at the table but have ultimately been turned down.
What our vet has to say
Veterinary expert Dr Michael Lazaris, who is working with our British dog food brand, said:  "This Laughing Dog research has proven more and more people treat their dog as an important member of the family too, almost as much as their own siblings(!). The data revealed that 54 percent insist on feeding their canine companion only the very best natural dog food they can buy, with 38 percent emphasising the importance of meals made with natural ingredients. British dog owners really do prioritise their pet's and that health and happiness."
And so close is the bond between owner and dog that one third of owners claim they can tell when their furry friend is feeling upset or anxious, with further findings revealing:
31 percent can tell EXACTLY what their hound is thinking through seeing their facial expressions.
A further four in 10 insist their dog laughs a lot in their daily lives (42 percent), with when they see their food being prepared the most likely time to do so (39 percent).
Meanwhile 35 percent say their dog gets the giggles when their owner gives them kisses and cuddles, while 34 percent insist it's when they're out on a walk and their pooch runs back to them that they love to laugh.
The survey also revealed how two thirds of Brits have become even closer to their four-legged friends during challenging times within the last 12 months (66 percent).
In fact, 47 percent of dog owners are dreading having to return to working in an office full time with the prospect of leaving their pets home alone, with one third saying they worry they will both suffer from separation anxiety.
It's no surprise that 32 percent have found their furry friend to be a lifeline over the last twelve months, with 24 percent adding that caring for their dog has given them something to focus on.
Meanwhile 69 percent agree that dogs can help their owners cope better with problems like depression and anxiety.
Dr Lazaris goes on to comment: "What's equally as extraordinary is how the bond with our dogs has strengthened whilst we've been at home during lockdown, with 66% of owners saying they now feel closer to their beloved pets. This shows us how dogs can be an important lifeline when people are suffering with their mental health, something that has become far more prevalent in the past 12 months. As much as we want the absolute best for our furry companions, they clearly want the same for us, which is why feeding them a healthy diet is so important!"
The research also reveals that the dog photo capital of the UK is Liverpool, where owners will snap up to 174 photos a year of their pet pooch. This was closely followed by Glasgow (134), Belfast (128) and Cambridge (121).
Rachel Grant, granddaughter of our founder Ted Grant OBE, says:
"This research explores how snap happy Brits are when it comes to their dogs, and the fact that many dog owners believe they can tell when their pet is laughing or smiling for the photo, so it's not surprising that three in ten say their dog is incredibly photogenic. The range of naturally complete dog food here at Laughing Dog is British made, family owned, and made with natural, simple and high quality ingredients. With human trend-led ranges and premium ingredients like ginger, sweet potato, seaweed and linseed, it's everything your dog needs to live a #doghappy life and keep on laughing, especially for those all important photos!"
Join our photography competition!
Does your dog laugh or smile? Does he or she express their emotions with you? We want to see your 'caught on camera' shots! Head to our socials to find out how you could win a year's supply of our naturally complete Laughing Dog food!
To find out more about our naturally wholesome dog food and natural baked treats visit: laughingdogfood.com
Facebook – @Laughingdogfooduk
Twitter – @Laughingdogfood
Instagram – @Laughingdogfood
Veterinary expert Dr Michael Lazaris, who is working with our British dog food brand, said:  "This Laughing Dog research has proven more and more people treat their dog as an important member of the family too, almost as much as their own siblings(!)."