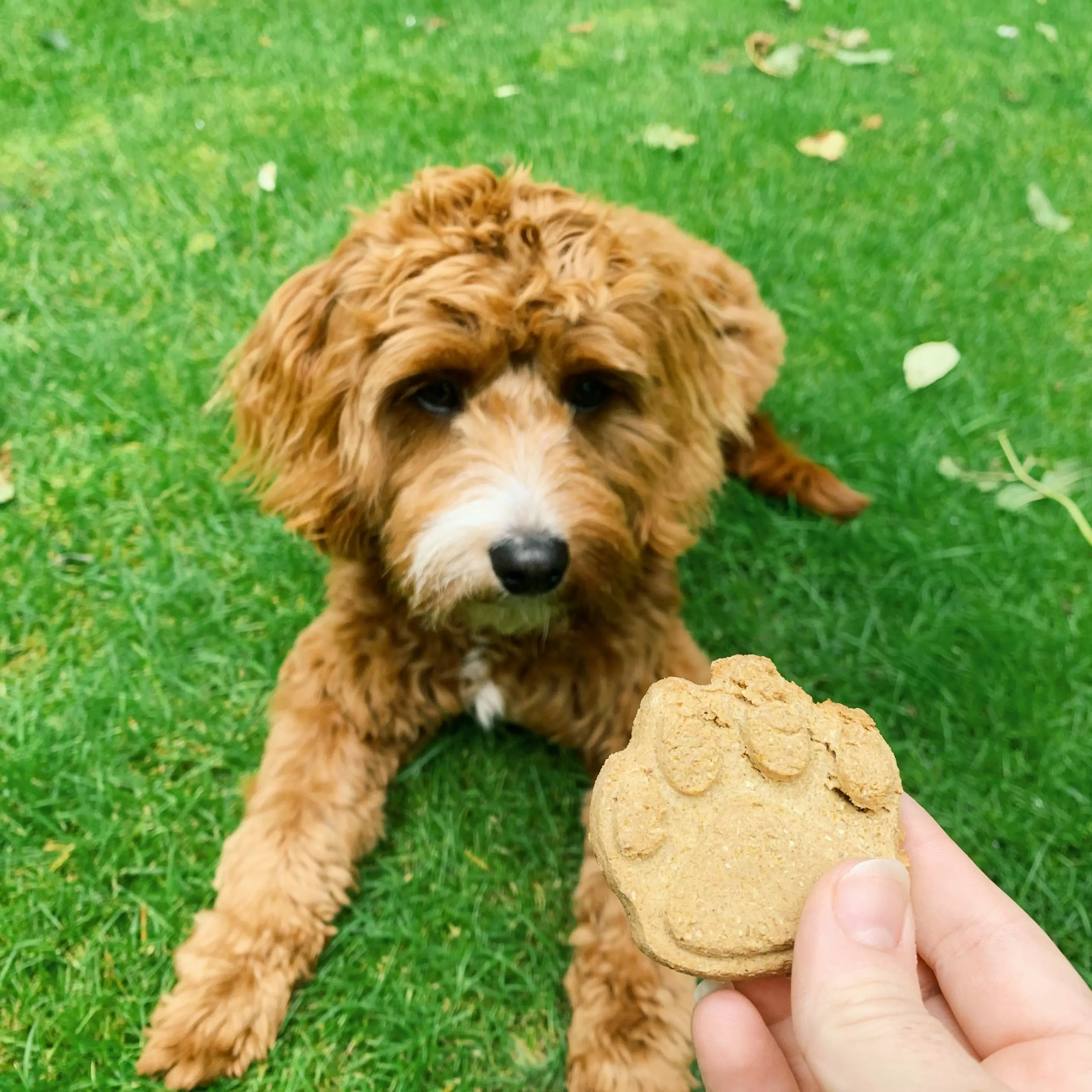 Halloween dog treats – no bake recipe!
Our tasty Halloween dog treat recipe – Halloween Truffles for Dogs – is a homemade dog treat that's easy to make but guarantees lots of tail-wags! With no baking required, this pumpkin dog treat is simple to make but jam-packed with lots of tasty ingredients that will be sure to make your dog feel part of the fun! This ingredient is also super fun for all the family.
Ingredients you'll need to make your delicious doggy treats:
1/2 cup flour (dog-friendly)
4 tbsp dog-friendly peanut butter
8 tbsp canned pumpkin puree
1/2 tsp cinnamon
1/4 tsp ginger
Finely crushed Laughing Dog baked treats (Sleep Tights, Fruity Paws and Cheesy Bites)
How to make your Halloween dog treats…
Now that you've collected all of your Halloween inspired ingredients, it's time to start the fun bit! Combine the coconut flour, dog-friendly peanut butter, pumpkin, cinnamon and ginger. If the dough is a bit crumbly, add small amounts of peanut butter, working the dough in your hands to help the oil bring the dough together.
Break small amounts of dough off and roll into balls.
Next, crush your Laughing Dog baked treats into fine crumbs.
Roll the balls of dough into the treat crumbs to finish.
Serve your Halloween  dog treats to your four-legged friend!
**Please note:
1. Peanut Butter – ensure this is a natural dog-friendly peanut butter choice with no added sugar (must not contain Xylitol as this is toxic for dogs. Palm oil must also be avoided as this can be harmful for dogs in excess).
2. Canned pumpkin. Plain canned pumpkin is easy to feed your dog as you don't need to cook it. Ensure it doesn't have additives, and serve it directly. Freshly baked pumpkin. To prepare fresh pumpkin, remove the seeds and bake it in your oven until it is soft.
3. These Halloween dog treats are for occasional use only. Always supervise your dog when eating, and ensure plenty of fresh drinking water.
Looking for more homemade dog treat ideas?
Good Housekeeping has some really brilliant ideas for dog treats – check out their 'best homemade dog treats' post which includes an array of different fruits and flavours, including of course our favourite for this season – veggie broth, carrot, pumpkin and peanut butter! There are even some ideas in here that you can freeze too!
Another of our favourite blogs is Puppy Leaks. They have a great post which features simple dog treat recipes that can be made with 5 ingredients or less. Their Ginger Apple Dog Treat sounds the perfect treat to us…. and is another really simple recipe to make at home!
There are also countless carrot and sweet potato cookie treat ideas too (naturally grain and gluten free), which will certainly go down well at any time. The fact that most of their dog treats are made with limited ingredients is great for keeping cost down and helping you to find the perfect treat for your dog if they have any particular dietary requirements, or need to avoid certain ingredients.
Last year Rachel and Layla made dog treats that were naturally oven-baked and also used pumpkin in the recipe! If you've got a bit more time on your hands, this dog treat recipe is also just as tasty, and fills the kitchen with a delicious baked aroma, which we know dogs love.
Psst. If you don't have the time to make treats, check out our oven-baked dog biscuit bones …perfect for all occasions!
Remember though that all treats are just for occasional use only – and you need to ensure that you are not over-feeding your dog. We also advise that you ensure your dog has access to plenty of clean, fresh water too.
Don't forget to show off your great baking skills and tag us on Instagram at @LaughingDog.