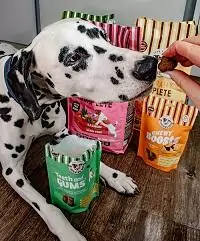 Did you know, to the most typical calculation to make is:
1 dog year = 7 human years
Therefore, a two-year-old dog would be 14, and a mere 3-year-old would be 21!
However, this calculation is only a rough guide and is not scientifically supported, due to different breeds aging differently.
Although a typical calculation is to multiply your dog's age by 7 to determine their human age, the correct formula is actually multiplying by anywhere between 4.3 and 13.3 depending on your dog's breed.
This can therefore leave calculating your dog's age open to interpretation; however, it will give you a fair idea of their age in human years to understand their general well-being.
Reasons you may want to be aware of your dog's age
It is good practice to be aware of your dog's age in terms of both their actual dog years and their age in human years.
In dog years it is important, as it will give you an idea of what ingredients will benefit them, e.g., you may be more inclined to start feeding joint care treats for dogs over the age of 7. Our joint care treats, Laughing Dog Chewy Boosts, are a delicious way to provide your four-legged friend with a boost of Chondroitin and Glucosamine to help keep joints supple.
The reason that you would want to know your dog's age in human years is simply to put this into a real-life perspective.
7-years-old for a dog may sound rather young, but really your dog will be somewhere between the ages of 44-50, in human years, depending on the breed. This calculation can consequently give you a better understanding of what level of health and activity they should be at.
You can compare the well-being and activity levels of your dog to that of a human when calculating their age. Therefore, a dog at 3-years-old would typically fall somewhere between 21 and 28, compared to a dog at 7-years-old that would typically be between 44 and 50. From this you can have a better idea of the level of activity, common aches and pains to be aware of, etc.
Why do different breeds of dog's age differently?
Different breeds of dogs age differently, generally because of health-related problems and illnesses which are correlated with the dog's physical size.
Many large breeds of dogs suffer from arthritis, which affects their joints and other stressors of their body. This does, unfortunately, mean that they often may not live to be as old as some smaller breeds.
However, some smaller breeds are bred to look different, for example, pugs who then may experience breathing difficulties which may shorten their lifespan. It is therefore difficult to give an exact age of your dog, which is why we simply recommend this as simply a light-hearted and insightful activity – we hope you enjoy!