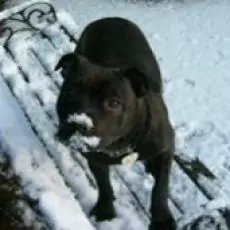 How to keep your dog warm and safe in winter
Did you know that keeping your dog hydrated through the winter is just as important as it is in the summer? Make sure your canine companion has access to as much fresh water as possible.
To help keep your dog warm in winter, your dog may need an extra few calories to help retain their body temperature. Remember to always check with your vet first though, especially if your dog is on a special diet.
Our four-legged friends are just as likely to get frost bite as we are, so try not to leave them outdoors for too long. You can also invest in a warm coat for your dog to wear in the cold months – there are lots of options availabe online and in your local pet shop to suit all sizes and budgets.
Hide the anti-freeze! This is a dangerous mixture which needs to be kept away from our little friends.
Dogs have been known to fall in to frozen ponds, lakes and rivers, so be sure to keep them off these as it can have dangerous consequences for dogs and their parents!
If your dog does spend the majority of their time outdoors, ensure they have the correct outdoor housing' this includes a sloped roof and suitable insulation.
Lastly, there is nothing that will make your dog's tail wag more than an occasional special treat and a belly rub….!