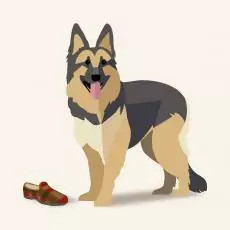 Porridge for dogs –  a naturally wholesome & wheat free recipe!
We know that breakfast is the most important meal of the day, so why not treat your four-legged friend to a bowl of our deliciously tasty and naturally wholesome wheat free porridge?
We think it's the perfect start for all dog happy adventures and best of all, it takes just 4 easy steps!
Into the mixing bowl:
160g of Laughing Dog's Wonderfully Wheat Free Baked Mixer Meal (or any of our mixers – we have grain free if you prefer!)
250ml warm water
Method:
1. Place the baked mixer biscuit into a bowl
2. Add the water, a little at a time
3. Stir the biscuit and water together
4. Gently crush the biscuit as it gets softer, doing this until a porridge consistency has formed
Ensure the porridge has cooled down before letting your four-legged friend enjoy!
*Why not top this with a sweet ingredient to make it really special? We like peanut butter, banana or chopped cranberries. You can of course try this with our grain free mixer meals and our traditional wheatmeal mixer, water quantity will vary.
To view our range of baked mixer meals, click here.
Remember to not overfeed your dog and always provide fresh drinking water. Feeding guidelines are detailed on all of our packets of food. Mixers are complementory food only.
*Our mixer biscuits are a cpmplementary pet food only. Fruit/honey only advised in very small quantities and as an occasional treat only. This recipe is intended as a treat only. Always supervise your dog when eating, and ensure your four-legged friend has lots of fresh, clean water on offer. Intended as an occassional treat only.