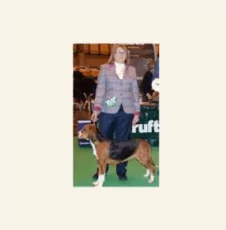 Here at Laughing Dog in the heart of the beautiful Lincolnshire Wolds, we are exceptionally lucky to have our very own Crufts Champion. Angela Leigh won Best Bitch at the show with her Netherlands Champion Flixtonia Rose of England – or Rose as she is known at home. Angela is the Uk's top breeder of Hamilton stovare champions and had three successful dogs from around the country in this year's competition. Angela caught up with us this week, talking all things Crufts of course.
You have been showing at Crufts for 23 years. How did you get involved with the show Angela?
It all started when my husband worked for a popular dog magazine; I got to visit the show regularly and took an interest. From there it became my lifelong hobby!
What preparations are involved?
I take my shorthaired Hamilton Hounds each year.  They are fairly difficult to train but patience always pays off! Although it takes up a lot of my time with training, the run up to Crufts isn't too strenuous for me. I take my hounds to hydrotherapy two months before and bath them just two days before Crufts, so there is not much to do before I go!
This isn't your first win. Tell us about your first?
Roland was a rescue dog and won best breed back in 2016 when he was just 5-years-old. It was a real shock to me but it made it worth all the hard work we both put into training.
Tell us more about Rose and her win?
This year (2018) we won best bitch, by doing several tricks and being well presented. Overall, we took top honors in all our classes – and you can't ask more than that!
What does winning Crufts mean to you Angela?
Crufts is a tense time for both the owners and their dogs, but for me it's just a hobby; like everyone else I enjoy winning, but if I don't there's always next time…!
With the Laughing Dog bakery based just around the corner from Angela, we're proud to support her and her lovely hounds. We love going to Crufts and enjoy meeting the competitors – and what a treat to gain insight into all the time and efforts that go on behind the scenes. Thank you, Angela!