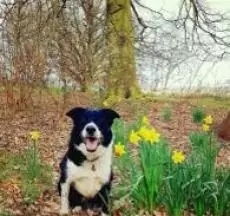 Last month our bakers were inundated with new four-legged friends and their dog happy photos. After much discussion and debate, our bakers selected Timmy, a 5-year-old Border Collie, for their dog happy photo of the month.
Timmy came from a rescue home when he was just 6-months old, and now 5 years on he's the happiest furry friend you'll meet.
He loves walking in the woods and splashing in water and is currently looking forward to his holiday in Norfolk with his family where he can really enjoy the great outdoors. Timmy says – bring on the puddles and the fresh air!
Whilst his hooman mum is spending time in her garden, Timmy likes to 'help'; although we're not sure that digging up her newly planted bedding plants and rounding-up the lawn mower can be classed as helping; hopefully the regular training classes he goes to should teach him how to help with the gardening in a more efficient manner….
Even though helping isn't Timmy's forte (he really does try!), being funny, loving and intelligent is!
And as his family says, "We only feed Timmy what we find is the best, and with its naturally wholesome ingredients and nothing artificial, Laughing Dog fits the bill."
Thank you, Timmy, – our bakers are so pleased you enjoy our natural baked dog food!
Join our dog happy moments scrapbook…
We live for dog happy moments, so why limit it to just one a month? Post a photo of your four-legged friend on our social feeds and our bakers will select their favourites throughout the month to win a selection of oven-baked Laughing Dog treats.
By posting your photos to our social feeds (Facebook, Twitter and Instagram) you agree to the privacy policies held by Facebook, Twitter, Instagram and Pinterest. By submitting your photos to our pages, you give permission for Laughing Dog to use your photo on our social media feeds; we may also use them in our online newsletter and within other print and digital advertising. Our competitions are not affiliated with Facebook, Twitter, Pinterest or Instagram in any way. To view our full competition T&Cs, please click here.