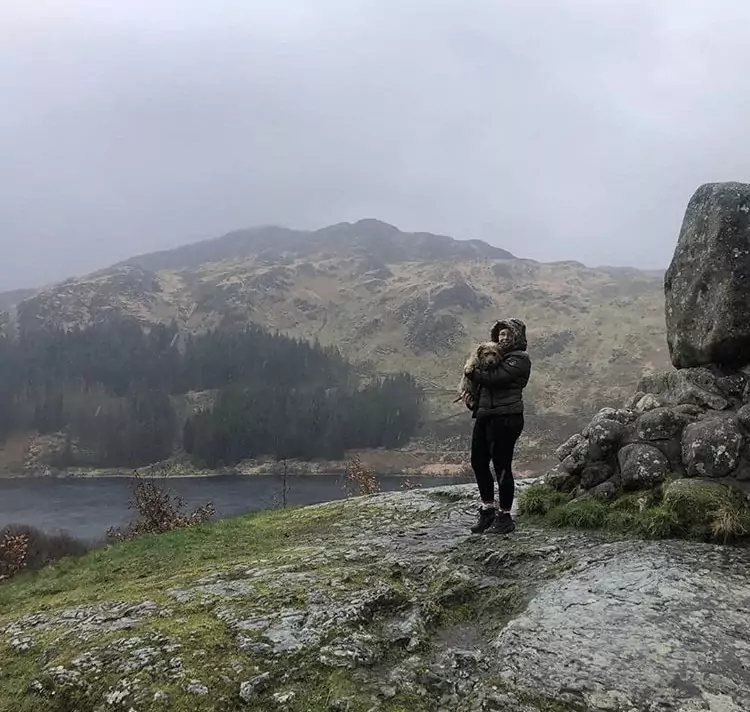 With the Laughing Dog team taking part in the Three Peak Challenge in just over two months, training has already commenced. First up is Hayleigh, our Sales and Export Manager. Despite the wet and windy Scottish weather, her adorable pooch Russell came along for the training exercise…
First things first Hayleigh. Tell us a little about what you do at the bakery.
I'm the Sales & Export Manager. I have the pleasure of working with countries all around the world who love our naturally baked products as much as we do.
We know you're super busy – what motivated you to give up even more of your precious time?
I have always been really interested in the work of the Guide Dogs  – they do such incredible work, and it's fascinating to see how they train their dogs. Taking part in a fundraising event for the UK charity was a simple decision for me to make. I was going to Scotland for a long weekend away with my other half last week and decided what better time to kick-start my training than now. I took my trusty sidekick and best friend, Russell (my dog),  who was very excited for a new challenge and to see mountains (it's very flat in Lincolnshire!). Russell kept barking at me to hurry up and actually earned the name  'Mr. Motivator' while we were climbing.
How did your training go in Scotland?
I struggled a lot more than I thought I would; it was certainly a case of mind over matter but it's made me more determined to complete the Three Peaks and I've realised I have to step my game up with training!
What was the most difficult part?
I would say there were three difficult parts – not just one! The first being that you thought you were getting on quite well but then the realisation crept in that actually this 'mountain' you're looking at is actually a large hill at the start of the mountain trek and the one you want to get to the top of is roughly three more miles away.
The second is the first big incline, when you have lured yourself into a false sense of security that when people say it's difficult, they're being 'dramatic' and then you realise those people are actually a lot fitter than you and they're just being truthful!
Finally; about 100-150 metres from the top when you think it could be the end but it could also just be the horizon hiding the rest of the trek from you, it's snowed the night before and the path has basically disappeared and you're starting to question if you should have just 'Googled' pictures of the top.
How are you getting on with your training in general?
Training is going well, I'm working mainly on my stamina throughout the week in the evenings after work by swimming and doing local fitness classes, as I think that will be the key to getting me through the three days. I'm going on long uphill walks at the weekends.
I've become a little obsessed perhaps too; I'm constantly reading up on tips for preparations and the climbs themselves. I've actually joined the fitness classes I was meant to back in my 2012 New Year's resolutions. I'm also constantly sharing my JustGiving page on multiple social media platforms and I'm following so many people who hike regularly. Preparation is key as they say!
What about the rest of the team?
The team are going for a practice run to Ingleborough in Yorkshire in two weeks, so myself and Russell will be tagging along for that (I hate to break it to Russell, but there won't be time for a picnic lunch this time!). We've also got a few more mountain trips planned in the next few months before the challenge.
What's the most challenging thing you think you will come across doing the Three Peaks?
I think it will be day three, when it's the final hurdle and all I want to do is have a take away and a nap but all I'll be allowed is an energy bar and a 3,560ft mountain climb.
Have you ever done anything like the Three Peaks before?
No, I'd never climbed a mountain before (or much of a hill living in Lincolnshire) and it has always been on my bucket list to do, so why not go for the three biggest in the UK and do it for charity at the same time?
If you would like to help us raise money by donating, we would really appreciate any donation. Click here to donate. 
We wish Hayleigh the very best of luck. To keep up to date with Hayleigh and Russell's training visit their page at Instagram.
Keep your eye out for more updates from our Laughing Dog team!