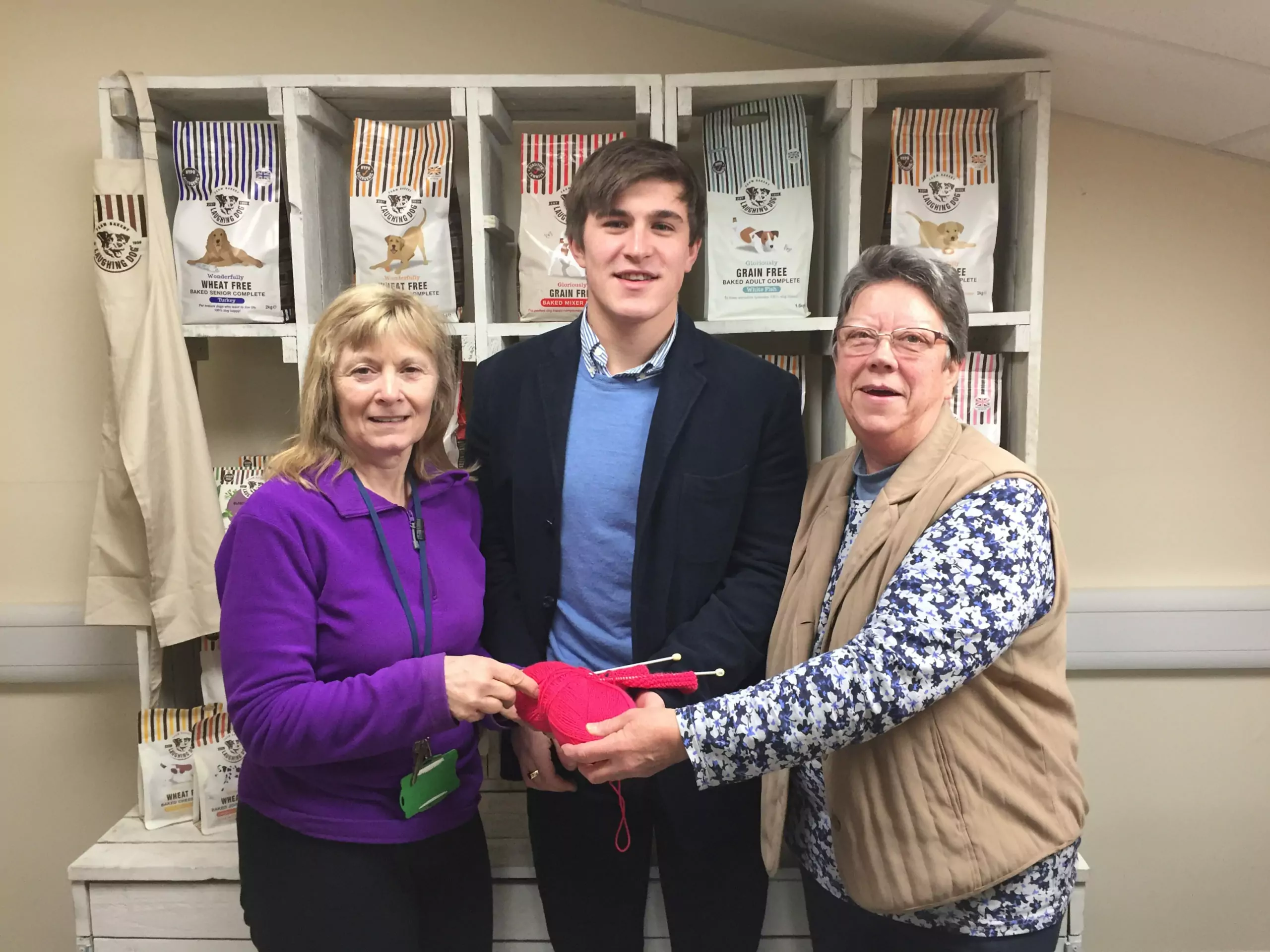 This year the Laughing Dog bakery is raising funds and awareness for the Guide Dogs, with a target of £5,000 to enable us to fund a puppy's entire training. With multiple activities already under our belts, Lynn one of our busy bakers came up with an idea to get our farm bakery knitting.
Lynn says: 'When I heard that Laughing Dog were going to raise money for the Guide Dogs I was really pleased, being clostraphobic myself I would be lost without site, so a Guide Dog for the non-sighted is a passion I would love to be involved with. I came up with the idea because everyone can knit or learn to knit. Being a grandma, aunt, sister and mother II have some odd ends of wool that I can knit together to make blankets to auction off for someone's pet be it a cat or a dog. I have 7 dogs myself and I know how much they love snuggling into their blankets when I'm at the bakery.'
Since forming the idea Lynn has teamed up with Sue, another member of our farm bakery team, and has challenged the nation to get out their knitting needles…
Hello
We're Sue and Lynn, proud members of the Laughing Dog food team. When we're not busy in the farm bakery helping to make our naturally tasty recipes (and carefully hand-decorating those scrumptious oven-baked biscuit bones you all love!), we like to spend our spare time knitting and taking on craft projects.
Knitting, in particular, is a much loved hobby of ours, and we love challenging ourselves to come up with new and inventive creations. We simply could not imagine life without sight – a change that would impact both work and our passion for craft.
Putting our enthusiasm for knitting to good use (and our love of dogs!), we are going to be knitting some very special blankets to help raise funds for the Guide Dogs. Using double knit wool to create multiple 6″ squares in various different colours, we plan to make as many blankets as we can (our ambition is to create enough squares to make multiple blankets!). We are using double knit wool (28 stitches) and 4mm needles. If you would like any further details, simply pop an email to bakery@laughingdogfood.com.
If you to love to knit and would like to lend a hand, simply send your squares to Laughing Dog c/o Fold Hill Foods Ltd, Lade Bank, Old Leake, Boston, PE22 9RJ.
Once our knitted creations are complete, we'll auction them off to help raise even more valuable funds for this incredible charity.
There's no stopping us once we start knitting, but if you are able to spare a few pennies to spur us on and help raise much needed funds for the Guide Dogs in the process, we'd be most delighted. If you wish to donate plese see our Just Giving page here.
With very best wishes,
Lynn & Sue  x x