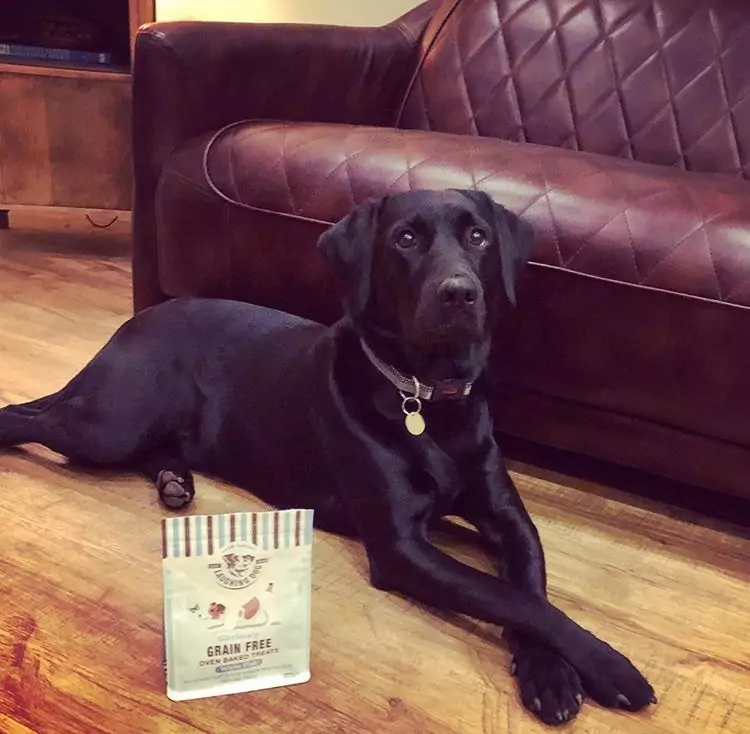 Our bakers have been working with Floors for Paws for a while now and have been excited to finally hear all about Bubba, the big boss…
Bubba is a black Labrador who is only 10 months old and is a complete bundle of joy. We're delighted that Bubba has now joined the Laughing Dog team and loves our natural baked recipes!
Our morning with Bubba….
How did you meet your human family Bubba?
I was living on a farm with my seven brothers and sisters and when I saw Mummy and Daddy, I put my paws up to them – they looked so nice and welcoming, I couldn't resist them! I think it's safe to say, it was love at first sight!
What's the most mischievous thing you have done?
Once I hid a lump of mud in my mouth and then distributed it (evenly) on a cream rug. Great fun but the humans weren't so happy about the mess they had to clean up. I haven't done it since, I don't want to get into trouble again.
What's your favourite food?
I'd say the Laughing Dog puppy complete white fish – it's yummy and I can't wait for dinner time every day.
What's your favourite thing to do Bubba?
Definitely snuggles with Mummy and chasing my KONG; it wears me out and I sleep like a baby.
What role do you have at the Floors for Paws office?
I'm basically in charge of the whole thing, but I let the humans do all the work. I am of course chief tester of their luxury floors for dogs – I need to ensure they are absolutely perfect for my fellow four-legged friends! As you can see above, I do a lot of the photoshoots for the floors for dogs publicity – and I think I'm rather good at it!
About Floors for Paws – the world's best flooring for dogs
Floors for paws is the first flooring company to put your dogs needs as high as your own. The Floors for Paws team has researched the very best flooring solutions for you and your dogs. As dog lovers they know the challenges of maintaining beautiful interiors with pets. That's why they introduced the best flooring for dogs and dog owners. Their ranges solve this challenge; hypo-allergenic, easy clean, slip resistant, anti-stain, waterproof, and comfortable. Combine this with the most realistic finishes on the market and you have a flooring system without compromise.
To discover more about Bubba and his dog-friendly flooring (and why he believes it's the best flooring for dogs), visit www.floorsforpaws.com.