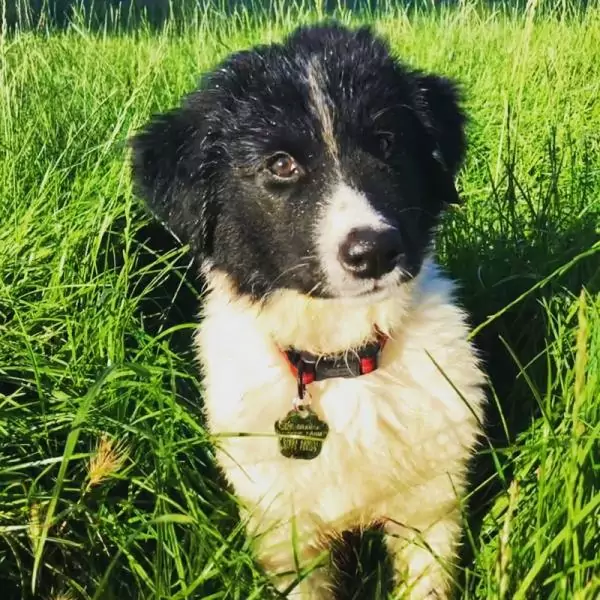 Meet Farley. A Pyrenean Mountain dog crossed with a Newfoundland, Farley is just 11 weeks old and lives with his family in the heart of the Lincolnshire countryside. With fields all around him, he's one very lucky little pup!
Currently Farley is waiting to have his vaccinations so he is enjoying sharing the house with his family to keep him company (but the downside to them working from home is that he can no longer get away with stealing all the slippers!). He enjoys pottering around the garden and the paddock. Farley is looking forward to lots of exciting days out and adventures away from home once he is given the all clear. His family love the outdoors, and this just suits him fine.
When Farely isn't sleeping (a nap in the afternoon sunshine is not to be missed, often in an unusual place or position!), or saying hello to visitors and the postman (there might be treats that need collecting), there are lots of important jobs to keep him busy. His family own some exceptionally busy hens and some very cheeky turkeys, so he needs to keep a watchful eye on them when he can (the hens are quite bossy, so Farley prefers to talk to them from his side of the fence!). There is also talk of some sheep soon, so Farley makes regular trips into the fields to check all is ready for their important arrival. Naturally someone has to check the grass is soft enough and the fences are secure…
Of course, while life is packed full of busy adventure and the odd mischief (it's not Farley's fault if you leave your slipper unattended), cuddles and snuggles (not on the sofa…of course) are his favourite thing.
Thank you Farley for letting us meet you. A tasty bag of Laughing Dog food is making its way to you!
Tell us about your four-legged friends! 
We invite you to embrace all things natural by joining us in sharing photos of your four-legged friend being completely and utterly happy in nature – whether your favourite pooch is having a run through muddy puddles, a splash at the beach or even a quick game of fetch in the park. Whatever your outdoor adventure (and whatever the weather!), simply pop your photo on our social feeds and every month our bakers will choose a selection to feature across our website, newsletter and social pages, with our special 'dog happy by nature' stamp (the stamp is added onto any photo our bakers select). And of course if your photo gets featured, our bakers will be sending some naturally wholesome and tasty dog treats your way! Don't forget to include #doghappybynature with your snaps.
Facebook: Laughing Dog Food
Twitter: @LaughingDogFood
Instagram: @laughingdogfood
Pinterest: LaughingDogFood
(Please note that any photos you post may get shared in our newsletter, featured on our website and across all our social media platforms. Only post if you are happy for us to do this).