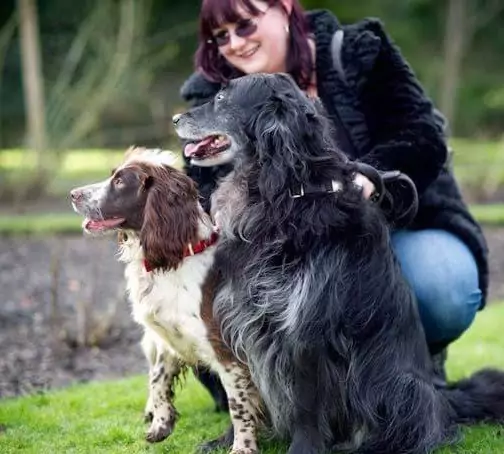 This month we say hello to Vicki, our farm bakery's HR manager. Vicki has been at the farm for 17 months now and while her days are busy, she loves the fact that no two days are the same. Vicki looks after training and anything to do with our bakers. When Vicki is not busy the farm bakery, she enjoys spending time with her dogs Sasha and Louis.
How did you meet Sasha and Louis?
My four-legged friends are my babies – Louis is a 16-year-old gentleman and Sasha is a 7-year-old scatty lady. I was there at Louis' birth as he was the final pup that my best friend's dog had whilst we were watching Friends on TV (when it was the original TV series – not the re-runs on Sky!)
Sasha was a rescue dog that jumped into my car as I turned up to pick up a raffle prize from the rescue centre, so it's true to say she adopted me.
Who's the boss?
Both Louis and Sasha have me wrapped around their paws.  They are a massive part of my family and my own parents are aware that they have granddogs!
If Sasha and Louis want the sofa or bed, I have to squeeze into whatever space they leave me. I cannot imagine that this will ever change; they are treated like royalty and they know it!
What would job would Sacha and Louis do if they joined the bakery team?
I wish they could come and work in the bakery! It's always sad to leave them at home, although I am lucky enough to be able to visit them at lunch time.
Sasha would work in HR as she is friendly and likes to know everything that is going on. Louis would work in NPD as he loves trying new treats and would like coming up with all the wonderful and natural new recipes for Laughing Dog (although I am not sure there would be many samples left for the rest of the team to sample!).
Describe a perfect day out with your four-legged friends. 
We love the outdoors, so anywhere with fresh air and beautiful scenery!
To read more interviews from our team, take a stroll through our news pages!