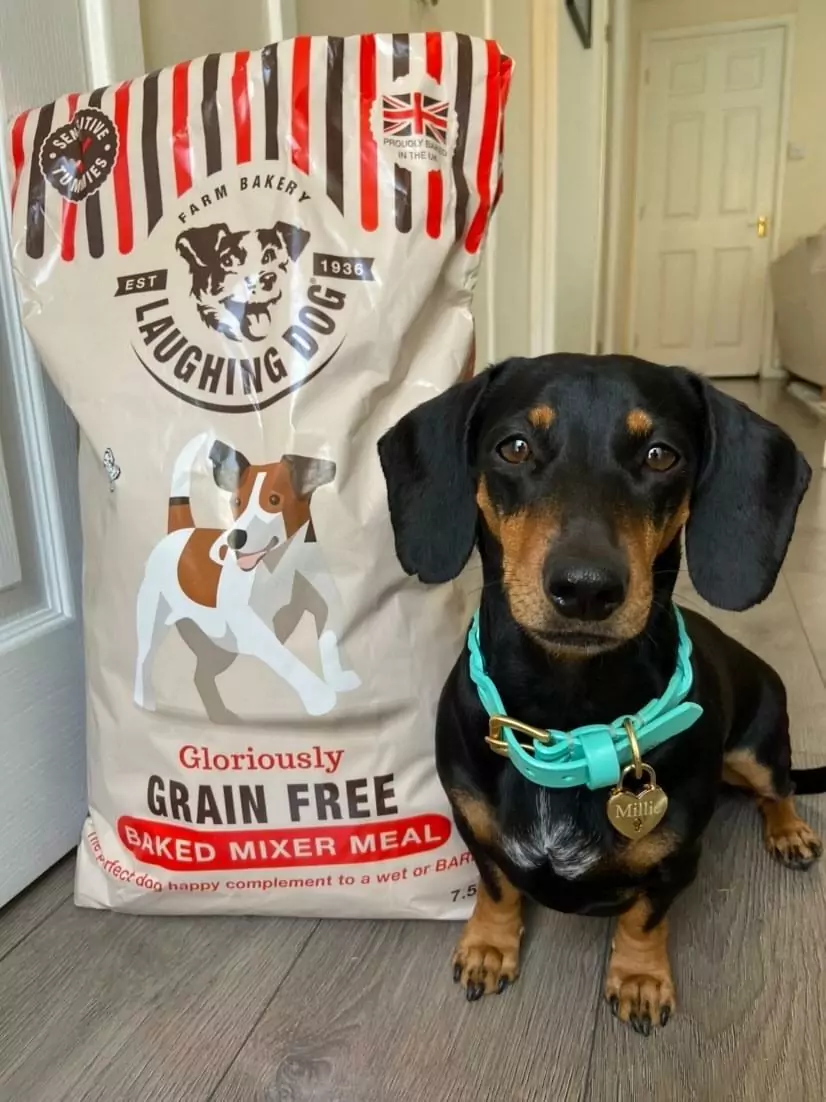 So here at Laughing Dog, we took this opportunity to highlight the option of raw feeding for your dog and how to get it right. There are two different types of raw feeding; one, homemade raw diet and two commercially prepared raw diets. Raw diets for your pets are made up of raw meat, raw bone and may include some other naturally occurring ingredients, for example, fruit, vegetables, oils and seeds. Some paw parents opt for a raw diet as they do not like the idea of canned, baked or tinned foods.
Types of raw dog food
Many commercially prepared raw dog foods are purchased in frozen or freeze-dried states. They are typically blocks of meat and bone which are defrosted and fed straight to your dog. The key concern with raw feeding is generally the food safety and hygiene aspect. Raw food, especially meat contains bacteria and parasites which would normally be killed out during the cooking process. As the raw diet is given fresh with no cooking, processing or baking it does pose additional risks to not only your pet's health but other people in your household. The greatest risk is cross-contamination which can spread bacteria around your home such as salmonella, therefore, putting everyone in it at risk.
Much like handling raw meat, for example, raw chicken, the same good hygiene practices must always be adhered to. These include, washing your hands, make sure that you're immediately washing and disinfecting all surfaces that have come in contact with the raw food and making sure that you dispose of any uneaten raw food once your pet has finished. Unlike kibble or dog biscuits, raw dog food cannot be left out, therefore if your dog does not finish his meal within very short time frame it does need to be disposed of. This also poses issues for picky or grazing eaters and a raw diet is probably not going to be suitable for them!
Where do I buy raw food?
When purchasing a raw food diet for your dog, first always be mindful of where you are sourcing your food from. Ensure that it is from a reputable company which follows European Standards. Commonly raw or BARF (diet which stand for bones and raw food diets), are fed to working dogs or those which have a high activity levels. For example, racing greyhounds; therefore more subdued or less active dogs may also not suit a raw diet as it will not fit with the lifestyle.
Another concern for feeding a raw dog food diet is how many nutrients it contains for healthy bodily function. When choosing a complete wet dog food or complete dry dog food it is manufactured to include an array of ingredients that contain all of the right vitamins and nutrients for a healthy and complete diet. This will include oils, vegetables, meat, protein, carbohydrates and essentially just all of the main 5 food groups, plus vitamins. Raw food, however, simply contains meat, which is why it is always important to try add additional ingredients such as fresh fruits and vegetables into your dog's diet to complement the raw meat.
Is it good to feed your dog a raw diet?
There are a lot of pros to feeding a raw diet to your dog. For many paw-parents it is due to the additional control of what your dog is consuming. Many owners who opt for a home prepared raw diet do this based on sourcing their own meat from butcher's for example. These types of owners are typically very protective about what their dog is consuming. Some other owners opt for a raw diet as it removes a lot of unnecessary carbohydrates for their pet and therefore can help a dog maintain or lose weight. Some dogs which are overweight may be moved onto a raw food diet as an additional source of protein but also to help control that weight gain.
Mixers for raw food
Some paw-parents choose to mix a raw food diet with a doggy biscuit too, this is very common practice for a raw food diet and can just help give your four-legged friends that little bit of crunch and some additional nutrients to their diet.
Whether you're looking for a grain free mixer meal laden with sweet potato, delicious botanical herbs and linseed for that glossy gleaming coat. Or a wheat free variety brimming with barley and oats for a slower form of energy release. Or purely a traditional, 100% British, wholemeal mixer, naturally simple, with nothing else added, Laughing Dog has the complete range to complement your raw feeding.
Their baked mixer meals provide the perfect complement to feed alongside wet, canned meat or a raw diet to add a little extra crunch to help keep teeth clean and breath superbly fresh. In addition, our dry complete wheat free and grain free dog foods have been carefully formulated to be fed alongside our mixer meals or in addition to a wet diet. The perfect way to pop some variety into your favourite four-legged friends' dog happy life!
So whether you're looking for grain free dog food, wheat free dog food or simply a wheat inclusive mixer biscuit, Laughing Dog can be sure to bake even the fussiest of dogs 100% dog happy!
Laughing Dog's traditional terrier mixer meal is also endorsed by the Canine Epilepsy Support Group because of its simplistic formulation of wholemeal flour and water, so it's the perfect dog food for epileptic dogs.