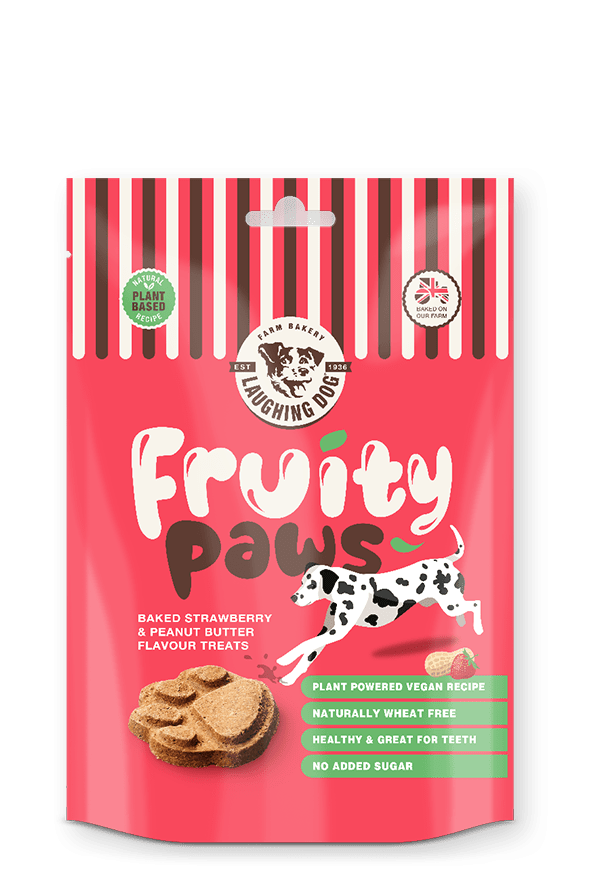 The vegan dog treats market is full of new and tasty ideas for dogs – even the Laughing Dog farm bakery now has its very own vegan dog treat, Fruity Paws, made with strawberry and peanut butter flavour!
With many dog owners choosing to vegan dog treats for their four-legged friend, it's fast becoming a new and growing area of everyday treats as well as puppy training treats. Whether you're vegan yourself or just prefer to feed and handle plant-powered dog treats, there are some super ideas available for dogs – from veggie treats to superfood recipes!
Many of our Laughing Dog customers like to feed a mixture of different treats, and we're really proud to be able to offer something for everyone.
What is a vegan dog treat?
A meat-free dog treat is not necessarily vegan. Just like in the human diet, for a treat or meal to be vegan it must not use or contain any products derived from animals.
Here are some examples:
While our Laughing Dog personalised dog treats are vegetarian (they are meat-free), these special treats are hand-decorated with yoghurt, which of course contains milk.
A few years ago, we used to make a breakfast meat-free dog treat containing honey. Whilst this was classed as a vegetarian dog treat, because it used honey it couldn't be classed as vegan.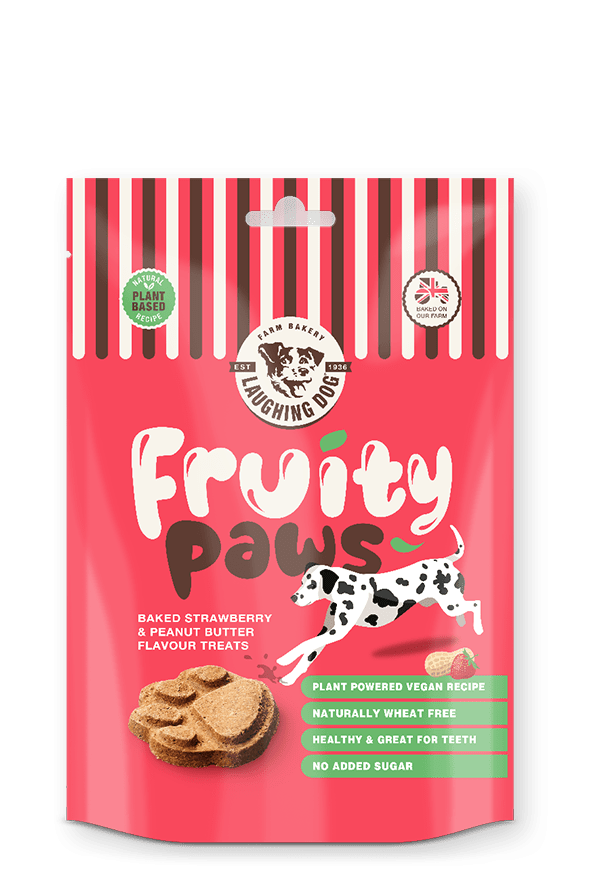 Making a vegan dog-friendly treat was always a creation we wanted to make at Laughing Dog, and in 2020 we finally achieved our ambition. Made with oats from our family farm in Britain, linseed, potato and ginger, we can safely say that this treat is vegan, vegetarian and naturally wheat free.
The PFMA have a brilliant vegan diet worksheet which talks you through vegetarian and vegan food for dogs if you'd like to find out more.
Making your own vegan dog treat recipes
Our nutritionists have put together some really tasty ideas for you to try at home. They are always coming up with new and delicious ideas (their lab smells amazing!).
As with all of our treats, these recipes are intended for occasional use only. We also recommend always supervising your dog when eating, and ensuring they have access to plenty of fresh, clean water.
Spinach, courgette & carrot dog treats
Ingredients you will need:
1

 

cup

 

pumpkin puree

1/4

 

cup

dog-friendly

peanut butter (Xylitol free & free from palm oil)

Olive oil (approx 3 table spoons)

1/2

 

cup

 

oats

3

 

cups

 

whole wheat flour (or you can use sweet potato flour if you'd prefer to be wheat free)

1

 

carrot

 

shredded

1

 

courgette

 

shredded

1

 

cup

 

baby spinach

 

chopped
Into the mixing bowl:
Line a baking tray with grease-resistant paper. Pre-heat oven to 180C.
Mix all the ingredients together, adding the oil slowly to create a cookie dough consistency.
Divide into small rounds, rolling in your hands to create a small ball shape and then flatten to a cookie shape.
Bake for 20 mins or until the treats are golden brown. Once cool, serve to your dog!
Ginger & pumpkin dog treats
Ingredients you will need:
1/2 cup coconut flour (dog-friendly)
4 tbsp dog-friendly peanut butter
8 tbsp canned pumpkin puree
1/2 tsp cinnamon
1/4 tsp ginger
Finely crushed Laughing Dog Fruity Paws Dog Treats
How to make your homemade dog treats…
 Mix together all your ingredients. If the dough is a bit crumbly, you can add small amounts of peanut butter, working the dough to help the oil bring the dough together.
Break small amounts of dough off and roll into balls or sausage shapes.
Next, crush your Laughing Dog baked treats into fine crumbs.
Roll the balls of dough into the treat crumbs to finish. There is no need to oven-bake!
Serve to your four-legged friend!
Send us your homemade creations
Enjoy making your homemade dog treats, and be sure to send us your creations so we can share on our socials. And if you have any requests for certain ingredients or flavours, be sure to let us know – as more new Laughing Dog treats will be coming soon!
Our treat recipes are intended for occasional use only. Always ensure your dog is supervised when eating and had access to plenty of fresh, clean water.