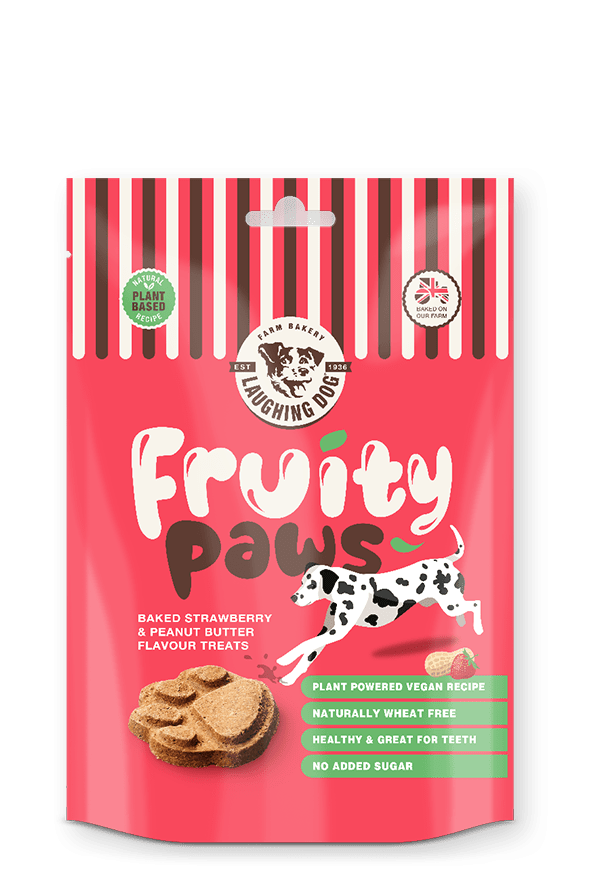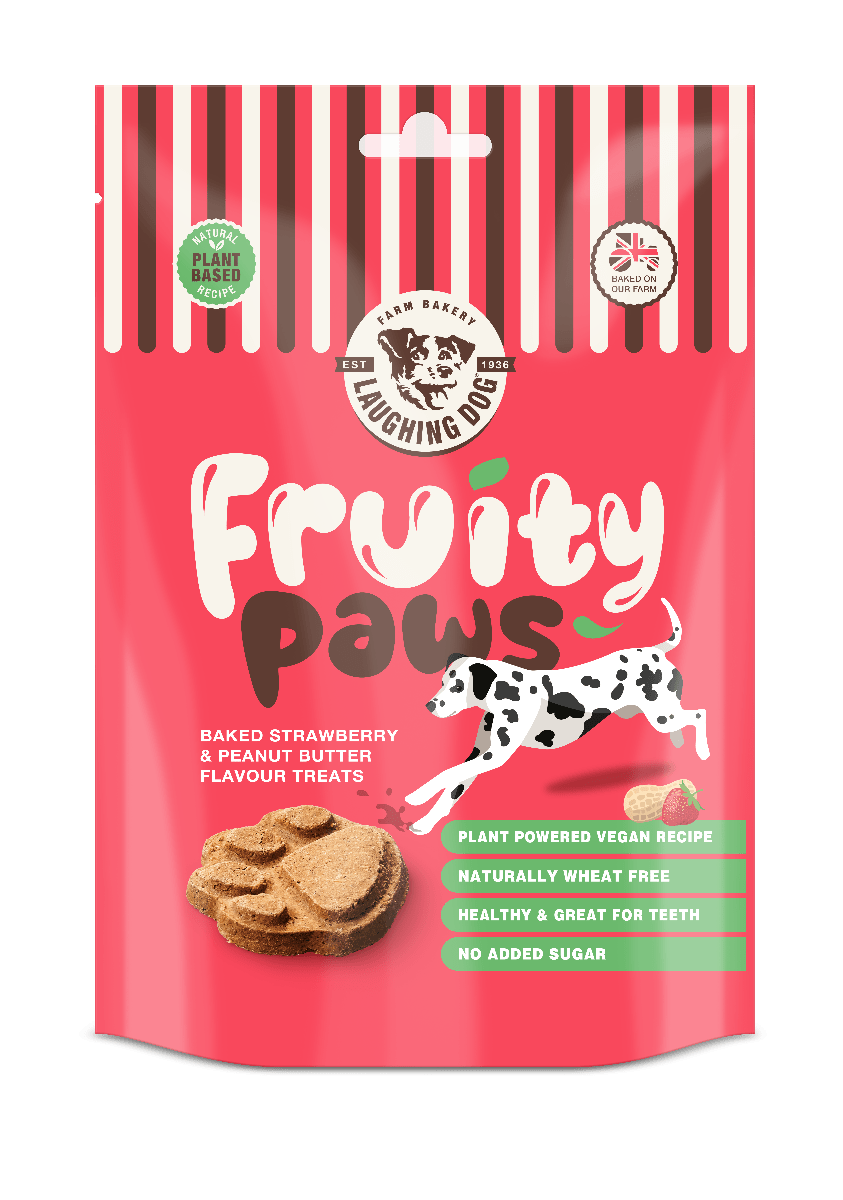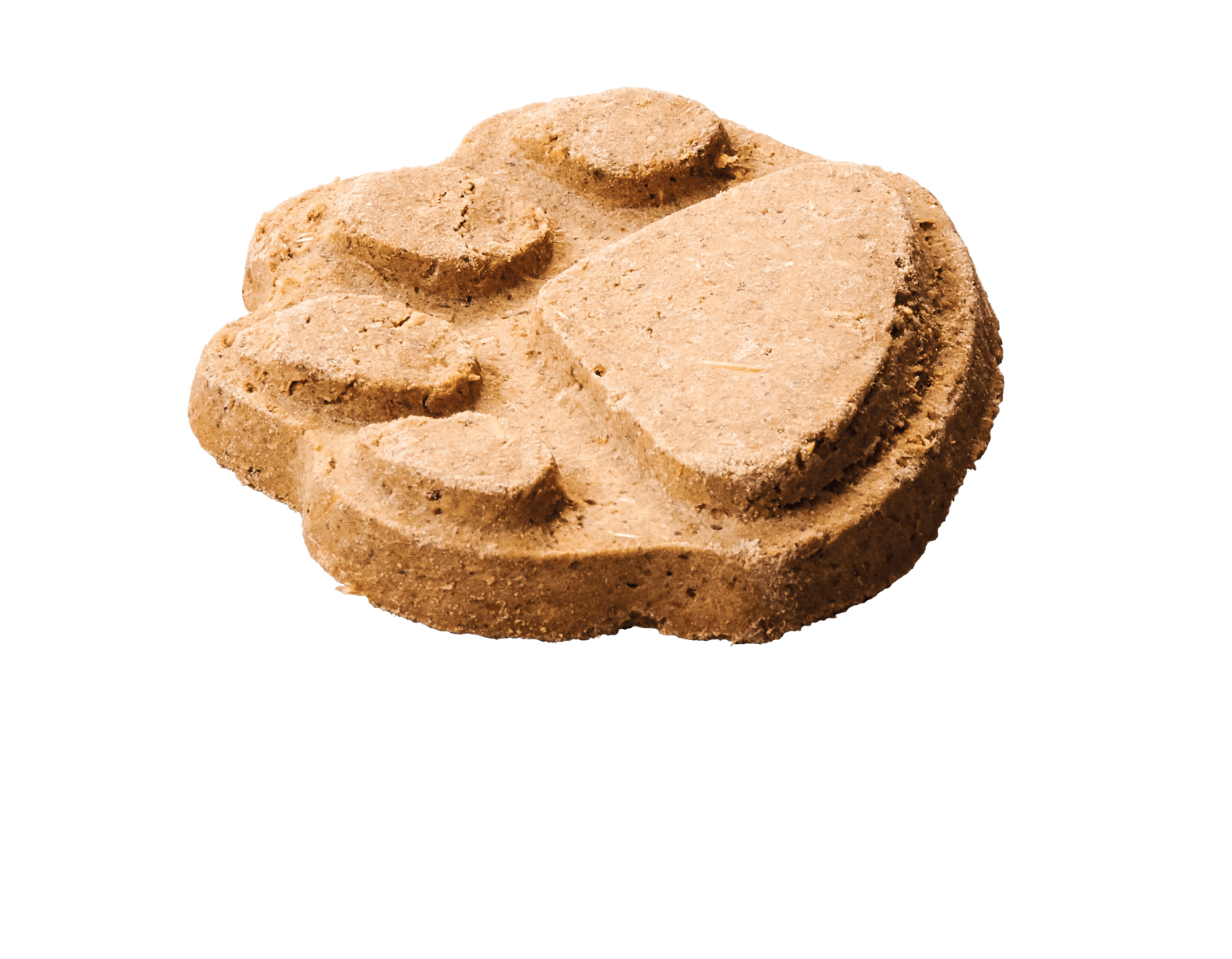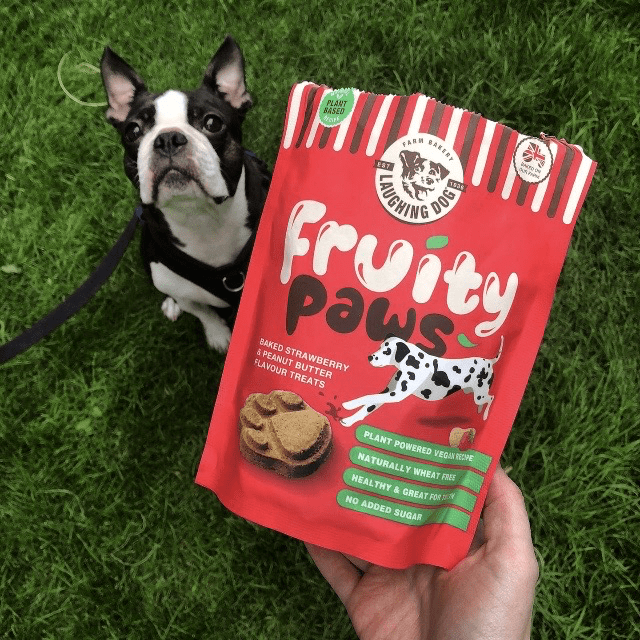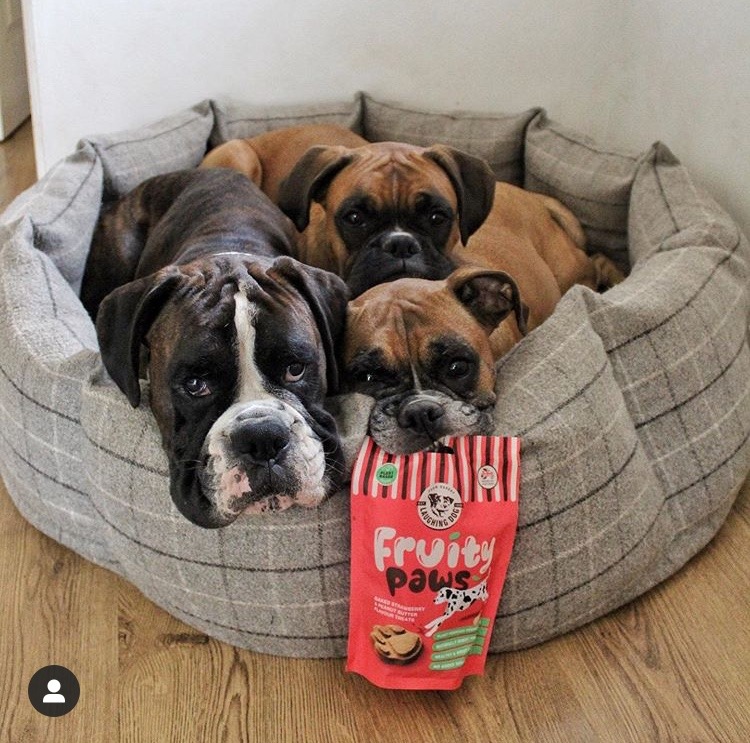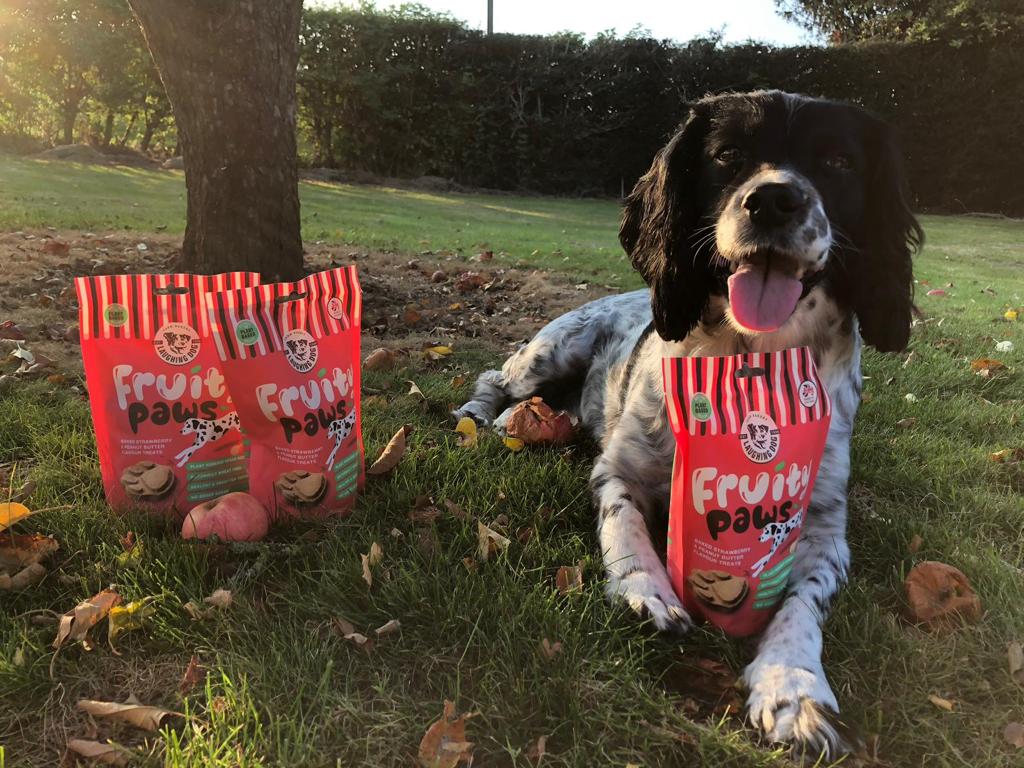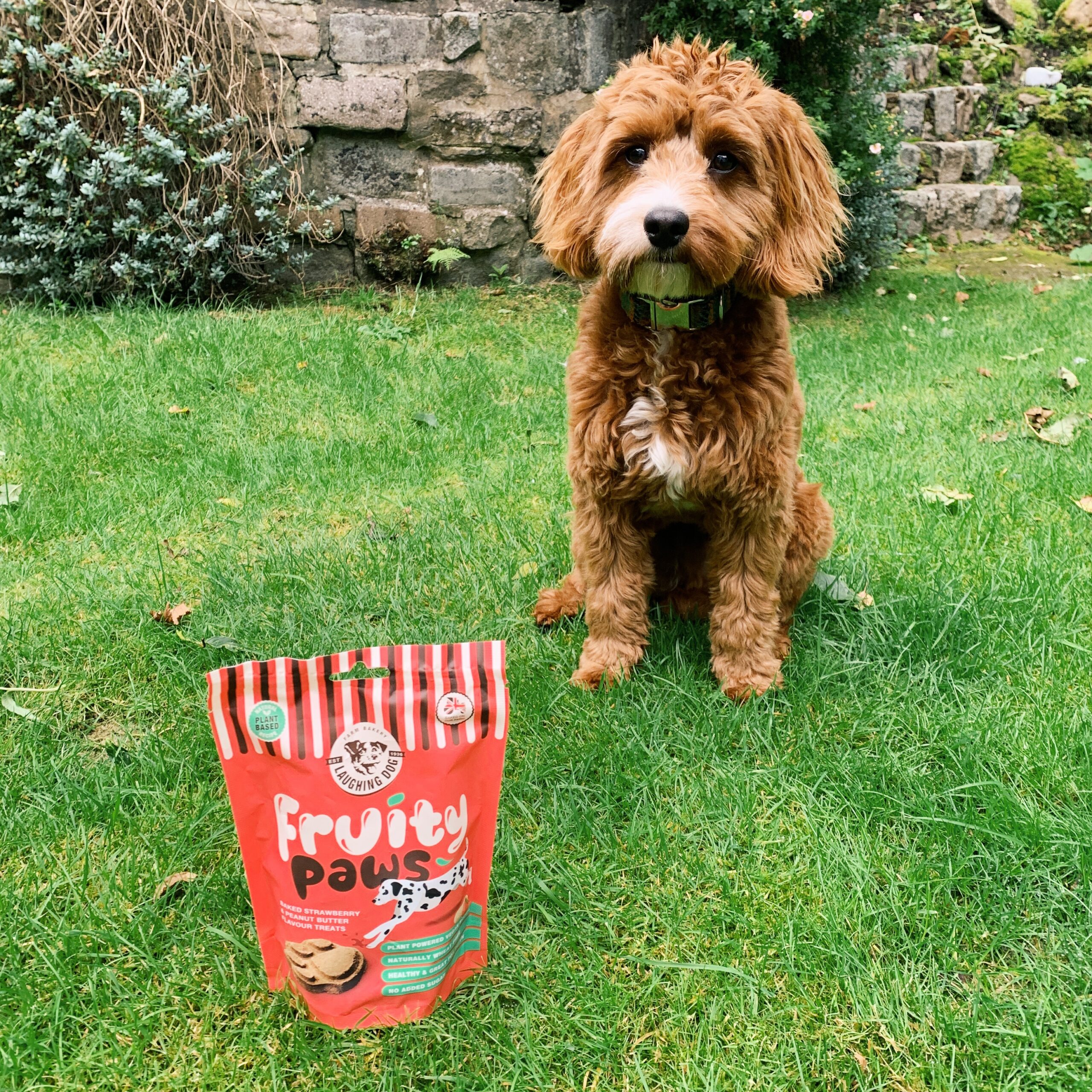 Wheat Free
Treats
Fruity Dog Treats
Strawberry & Peanut Butter Dog Treats
A first for Laughing Dog….our new strawberry and peanut butter dog treats are made with the tasty goodness of plants and are 100% vegan! Naturally oven-baked, our Fruity Paws are jam-packed with flavours we know your four-legged friend will love….perfect as a snack between meals or as a super tasty training treat. Our unique baked texture also helps to keep teeth clean too!
Made from start to finish on our family farm in Lincolnshire, these wheat free dog treats are made with natural ingredients (oats, maize, linseed, ginger, peanut butter and strawberry flavour) with no fillers or nasties, and no added sugar or salt. Formulated free from wheat, wheat gluten, sugar, salt, meat, dairy and soya. 100% vegan recipe bursting with the tasty goodness of plants.
Available as a single 125g bag or as a case of 5 x 125g bags.
Natural plant-based recipe
Naturally oven-baked
100% vegan treat
Naturally wheat free
Healthy & great for teeth
No added sugar or salt
No added meat, dairy or soya
No added artificial colours, flavours or preservatives
100% recyclable ready packaging
Into the mixing bowl:
Ginger – a natural herb antioxidant and tonic to help enhance digestive health.
Linseed – rich in Omega 3 and 6 to help maintain healthy skin, glossy coats and overall good immunity.
Strawberry and peanut butter flavour – naturally tasty flavours to keep tails wagging from dawn to dusk.
Oats – grown on our farm, a natural energy booster and helps keep cholesterol levels healthy.
Composition
Maize Flour, Oats (25%), Linseed (5%), Potato Starch, Rapeseed Oil, Ginger (0.2%).
Analytical Constituents
Protein 7%
Crude Fibre 4.5%
Fat Content 6%
Crude Ash 2.5%
Omega 3 0.3%
Omega 6 1%
Additives
Additives: Sensory Additives: Peanut Butter Flavour (0.3%), Strawberry Flavour (0.3%).
Feed Guide
This is a complementary pet food for dogs. Suitable for dogs over 12 weeks of age. Perfect for large breed dogs, but can also be easily broken down for smaller dogs. Feed as a snack or reward at any time between meals. They also make a great training aid. To help maintain a balanced diet, adjust the amount given to keep your dog in a fit and healthy condition.
Always ensure fresh drinking water is available for your dog. Made in a pet food bakery handling meat, dairy and other cereals. 
Store in a cool, dry place.
330 kcal/100g.
Reviews
Jon Greening
Sunday, 26th of March 2023
Loves them! They smell really good!
Michelle Davin
Saturday, 18th of March 2023
Went down in seconds! Healthy pudding treat Great for after walks, small bite size. Packaging easy to open.
Daniel Gower
Wednesday, 22nd of March 2023
Trusted Customer
Tuesday, 21st of March 2023
Because these can be broken up into smaller pieces they go further
Trusted Customer
Saturday, 25th of February 2023
gordon mcbrearty
Tuesday, 28th of February 2023
Trusted Customer
Tuesday, 24th of January 2023
Definitely a favourite treat for Hugo
gordon mcbrearty
Saturday, 21st of January 2023
well made and not full of rubbish
Michelle Masterton-Smith
Wednesday, 18th of January 2023
We have vegan dogs and fruity paws are they fave thing ... one dog even barks 3 times for frui-ty paw in the evening at treat time
Victoria Nunns
Saturday, 31st of December 2022
So far my little dog seems to like them it would be nice if they were smaller and you've got more in a packet I have to break them in half as she's only a tiny dog walk this is Monley adoption of small ones for small dogs could be quite interesting
gordon mcbrearty
Saturday, 24th of December 2022
Trusted Customer
Wednesday, 30th of November 2022
Trusted Customer
Tuesday, 29th of November 2022
Another popular treat with health benefits grain free. Both my little dogs love and can break up so treat goes further.
Trusted Customer
Tuesday, 15th of November 2022
Our dog tells me they are like no other treat she has ever had … yum .
James Mapps
Saturday, 5th of November 2022
Pauline Crosland
Wednesday, 2nd of November 2022
Jill Love
Wednesday, 19th of October 2022
Robert Clay
Tuesday, 25th of October 2022
Good price, quality ingredients. Highly recommended.
Sam Kent
Tuesday, 11th of October 2022
Trusted Customer
Friday, 7th of October 2022
Loves these as a mid morning snack
Paul Ballard
Sunday, 25th of September 2022
My puppy loves these as a sweet treat, they are big biscuits so for small dogs might want to cut them in half, we give them as a special treat.
Trusted Customer
Friday, 26th of August 2022
The girls have previously enjoyed and I have ordered many times. Usually break these up and last well.
Pauline Crosland
Tuesday, 16th of August 2022
My dog absolutely loves them
Trusted Customer
Sunday, 14th of August 2022
Dogs like them but they are very big and i have to break them up first as they cant manage them otherwise. It would be nice to see them in a smaller size option too.
Trusted Customer
Wednesday, 10th of August 2022
My 3 dogs really like these, they are very big so i have to break them up. Perhaps a smaller version would be a good idea for small breeds.
Tracy Loukaides
Thursday, 4th of August 2022
My dog love's these , he loves anything with peanut butter.
Margaret Robertson
Tuesday, 2nd of August 2022
All my dog visitors love them
Trusted Customer
Saturday, 23rd of July 2022
These are one of my dog's favourites.
Trusted Customer
Wednesday, 6th of July 2022
Hayley Chaplin-kemp
Saturday, 18th of June 2022
My boys love fruity paws, happy wagging tails
Independent Customer Feedback
Delivery
Over £30
Next Working Day Delivery if ordered before 11.30am
Free
Under £30
Next Working Day Delivery if ordered before 11.30am

Royal Mail Tracked 48 if ordered before 11:30am (items under 2kg)

£5.95

£4.95

Personalised Order
5 – 7 Working Day Delivery
Free if over £30
Please note we can only accept customer orders for delivery to addresses in England, Wales and Scotland, although restrictions and additional delivery charges may apply to Northern Ireland, Northern Scotland, Scottish Highlands and Offshore Islands. Also, please be aware that all hand-decorated biscuit bones can take up to 7 working-days for delivery. All other items as part of this order will be sent out once the biscuit bone has been crafted by our bakers. Please visit our Delivery page for more information.
What's Inside
Strawberry + Peanut Butter Flavour

Naturally tasty flavours to keep tails wagging...!

Ginger

A natural anti-inflammatory that can help joints

Linseed

Rich in Omega 3 and 6 to help maintain healthy skin, glossy coats and good immunity