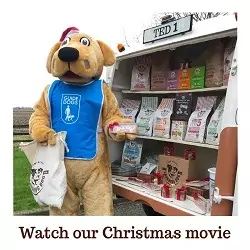 Hollywood watch out….here comes Laughing Dog!
Laughing Dog Food has this week launched its first ever Christmas Movie. Featuring Ruffle, from UK charity, The Guide Dogs, our short three-part film was created to help raise awareness of the fundraising activities that we have been taking part in, as well as showing off some of our tasty and limited edition Christmas presents for dogs….!
Mitchell Pearson, our charity coordinator, said: "We're used to working with dogs at our farm in Lincolnshire, so we were of course delighted to invite Ruffle for the day. Working with Ruffle was really great fun (although he was quite mischievous….our Christmas puddings and hand-decorated bones had to be replenished a few times!

"We are really pleased to have reached our target – the support we've received has been incredible. Our staff and customers have been involved in so many activities – from local dog walks and Three Peak Challenges, to knitting blankets, live auctions, a 2020 charity calendar (featuring KONG recipes) and raffles. We have plenty more ideas lined up for 2020, and look forward to meeting our puppy shortly."
We set a target at the start of 2019 to raise a total of £5,000 for the UK charity, the Guide Dogs, to help fund a puppy's training. After reaching this brilliant amount, we have now promised to raise a further £5,000 next year in order to pay for a puppy's entire training programme!
Our film can be viewed on Laughing Dog's YouTube Channel, and across all of our social media channels. Enjoy!