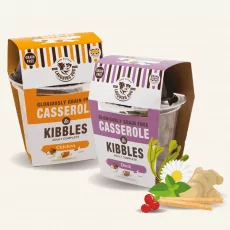 Win a dog happy day out bundle!
We've created a deliciously wholesome and tasty bundle to take on your doggy days out. Our Casserole & Kibbles pots are the perfect meal – with our grain free wet food at the top and grain free dry at the bottom, simply mix them together for a complete meal. Naturally wholesome and easy to mix, our Casseroles & Kibbles are perfect for days out, holidays or just as a tasty mealtime adventure.
Alongside our wet and dry pots, you'll find our Grain Free Noon Oven-Baked Treats, for an afternoon pick me up, our Wonderfully Wheat Free Dental Oaties to help keep breath fresh and of course our beautiful ceramic Laughing Dog bowl so your four-legged friend can dine in style. To make for an easy day out, all our naturally baked goodies are tucked safely inside our Laughing Dog cotton jute bag.
Would you like to win?
Simply post a photo of your dog in their favourite place to enjoy their Casserole & Kibbles pot. It might be on a picnic, at dinnertime over the weekend or perhaps when you go on your holiday adventures. Our bakers will select a favourite to win the dog happy days out bundle!
Competition ends 31/05/18. By posting your photos to our social feeds you agree to the privacy policies held by Facebook, Twitter, Instagram and Pinterest. By submitting your photos to our pages, you give permission for Laughing Dog to use your photo on our social media feeds; we may also use them in our online newsletter and within other print and digital advertising .Competition is not affiliated with Facebook, Twitter or Social Media. To read our competition T&Cs in full please click here.