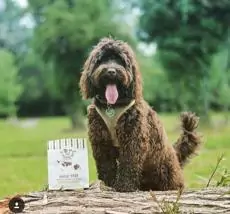 We've been baking dog biscuits since 1936, so naturally we're celebrating International Dog Biscuit Appreciation Day in more ways than one…
1. We're spoiling all our four-legged friends with 20% off all our oven baked treats (tail-wagging deals until midnight 25/02/18!). Find our more...
2. Every order of our delicious and wholesome treats gets a free oven-baked gift hand-packed by our bakers*. We think you can't beat a baked biscuit!
3.  So you can really impress your furry friend in the kitchen this weekend, our expert bakers have created a homemade grain free dog biscuit recipe packed with naturally delicious goodies. (Don't forget to send us a photo of your baked creations – simply post to our social pages and our bakers will pick their favourites to win a limited edition baking apron and baked treats for your dog!)
We're pretty sure that our furry friends know exactly how to celebrate dog biscuit day, but whatever you get up to this weekend, we hope it's filled with plenty of dog happy biscuit adventure!
*Offer valid until midnight 25/02/18, while stocks last.
Free gift will be grain free and added to your order as it leaves the bakery.