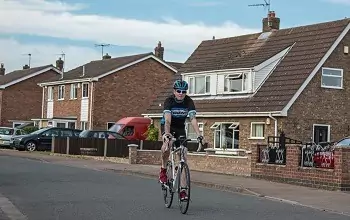 Keeping fit and active in lockdown
Staff at Laughing Dog food have been keeping themselves active during lunchtime breaks, evenings and weekends. Whether it's running around the garden, or going on a quiet walk or bike ride (we've been getting up very early to ensure we keep to social distancing measures!), we're keeping active to ensure we can switch off from work properly and keep fit.
Some of us have dogs, some of us don't – either way, we're enjoying getting some steps in! Each week our Laughing Dog food team is checking in with a weekly mileage figure so we can keep a count of our steps – our challenge is to to cover the distance from Land's End to John O'Groats! Along the way, we are hoping to raise a few pennies for our charity parter the Guide Dogs ❤️
The Guide Dogs have produced some incredible COVID-19 support packages for those with sight loss at this challenging time. For more information, pop to their website.
For every donation we receive, we will also be donating a parcel of dog food to an animal food bank. (We aim to cover as many food banks across the UK!).
If you can spare a few pennies, pop to our Guide Dog Just Giving page here.
Watch our videos here….