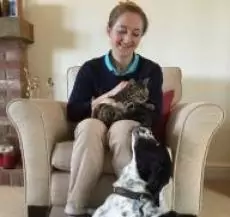 Meet Jess – vet and chief rescuer of waifs and strays (aka Bobbie and Nala)
We are delighted to announce the arrival of Jess who joins our Laughing Dog team.  Giving feedback on our recipes, Jess will also be sharing her tales of adventure as she goes out and about with her four-legged friend Bobbie. 
Tell us about yourself Jess. What made you want to become a vet?
I am a veterinary surgeon at a first opinion small animal practice in Kettering, Northamptonshire, where I mainly take care of dogs, cats and small furries. I have always wanted to work with animals, after growing up with many family pets on our farm and having a keen interest in horse riding. Life as a child was surrounded by animals, and I am lucky that life as an adult is no different!
We know that being a vet can be very challenging. What are your favourite parts of the job?
My main interest in practice is in internal medicine, however I still enjoy dabbling in surgery.  I love the variety of veterinary practice, the practical elements, and being able to help clients and their pets. It is wonderful to be able to meet so many different animals.
We love spending time with Bobbie and Nala. Are they best friends? 
We share our family home with Bobbie and Nala, both of which are rescued waifs and strays. Bobbie is a Pointer/Collie crossbreed and is getting to be an older man now, however he still enjoys a good run and ball play when he is allowed!  We have been very lucky to find such a gem as Bobbie – he is incredibly patient and fun-loving. Everyone who comes to the house has to play with Bobbie!  As a family we love exploring the great outdoors, and Bobbie is certainly one for taking on new adventures. Bobbie's favourite places to walk are either in the woods, or around the farm, or having a good swim in the river.
Nala is a very friendly short-haired tortoiseshell cat – and is as well-mannered as Bobbie. Nala would love to be Bobbie's best friend (she's desperate to play ball) but I'm not sure he feels quite the same way!
Jess will be sharing more tales of her adventures, so keep an eye out for updates. We also cannot wait to play with Bobbie again…he's also looking forward to trying some more of our wheat free cheesy oaties…he just cannot seem to leave them alone!