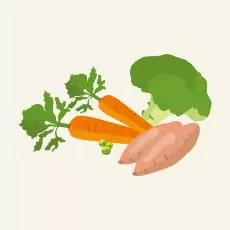 From our family to yours since 1936…
Here at Laughing Dog, we are passionate about making dog food that is the very best. Dogs are part of our family too, so we're passionate about ensuring our dog food is nutritious, wholesome, perfectly balanced and, of course, full of natural and delicious flavours.
We understand that the term natural dog food is a complex area, and can mean different things to different pet parents.
Our dog food ranges are created from natural ingredients, we take great care to ensure our dog food is only made with naturally sourced contents, and have absolutely no added artificial colours, flavours or preservatives.
What is natural dog food?
The code of good labelling practice from the European Pet Food Industry, or FEDIAF for short, says that the term "natural" should be used only to describe substances in pet food to which nothing has been added and which have been subjected only to such physical processing as to make them suitable for pet food production and maintaining the natural composition. Obviously, our dog food, like all other dog food brands, is cooked to make it suitable for your dog, which is why it cannot technically be labelled as natural.
However, we take pride in ensuring our dog food still means our Laughing Dog 'natural' standards….

Naturally baked dog food

First of all, as you might have spotted, we naturally bake some of our ranges of dog treats and mixer meals. In fact, we've been baking dog food since 1936. Now that's a long time, isn't it?
Baking is a slower process – a method we know helps to make a naturally crisp and crunchy texture, which is great for helping to keep teeth clean and breath fresh.
We make it ourselves 
You will also be pleased to know that we make all of our naturally wholesome dog food right here on our family farm, so as well as keeping our carbon footprint to a minimum, we also know exactly what goes into the mixing bowl. Every ingredient has been sourced by us here on the family farm, we do our bit for the environment and for your fur babies, we are as close to "natural" as you can get in the dog food manufacturing world!
Dog food made with natural ingredients
Did you know that we grow many of our own ingredients? Our naturally wheat free oats and barley go straight from our fields and into the mixing bowl – from field to fork (or dog bowl) as you might say. Many of our dog food recipes, including our treats, our Naturally 5 dog food recipes and our Naturally Complete dog food recipes are made with natural ingredients.
Clean ingredients label
Have you heard of the term 'clean labelling'? There is a drive within the pet food industry to encourage manufacturers to create labels that are easy to read for the consumer, and not cluttered with unnecessary ingredients.
Look at our labels and you will see that not only are they simple to understand (we prefer wholesome to fancy!) but every single ingredient that is added to our natural dog food recipes has been selected to provide a specific benefit. We do not believe in adding ingredients for the sake of it. Before finalising our ingredient mix, our nutritionists scrutinize every ingredient to ensure that it really is doing a job. Clean and limited ingredients are a top priority here at the Laughing Dog farm bakery.
You will also be pleased to know that there are no added artificial colours, flavours or preservatives in our wheat and grain free dog food recipes. Our completes and mixer meals also have no added soya, egg or dairy.
Grain free & wheat free natural dog food
Just as it says on the tin, our hypoallergenic complete dog foods, treats and mixer meals are naturally grain free and naturally wheat free. It's as simple as that!
Any questions about natural dog food? Just ask!
If you would like to know more about natural dog food in general or just about our naturally wholesome food then please talk to us on our freephone number 0800 0988057. Our nutritionists are happy to help!