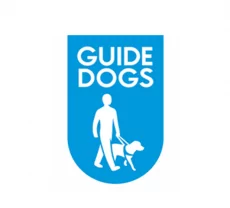 his year the Laughing Dog team set a target of raising £5,000 for the wonderful Guide Dogs Charity, UK.
We are delighted to announce that we have now raised £5,000! Now that we are have reached our yearly target, we have been able to submit our choice of puppy names to the charity! The overwhelming decision from the bakery team was that Ted or Teddy would make the perfect name – naming our Guide Dog puppy after our founding father, Ted Grant. We are now just awaiting to find out when our puppy will be allocated to us!
Below is a round-up of the events hosted by our farm bakery team so far this year…
Saturday 27th April
Sponsored walk/run, 8.5 miles along the beautiful River Witham!
This was a fantastic day – filled with lots of laughs and tail wags! Our Laughing Dog team got together with friends, family and four-legged friends for a stroll along the river. Then, arriving at the Malcolm arms (half-way point) for refreshments, the team hosted a terrific tombola.
Half of the team then continued all the way to Witham& Blues, all then returning to the start-point together.
25th – 27th May
Laughing Dog team takes on The National Three Peaks!
Seven brave members of the farm bakery team took on the Three Peaks Challenge. They had three days to climb three mountains! Ben, Hayleigh, John, Kate, Renu and Jon G faced Ben Nevis (Scotland), Scafell Pike (Cumbria) and Snowden (Wales) with determination, and did us very proud.
Click to see how ZOE and RENU got on through their training process… their plans, hopes and fears!
Laughing Dog Knits for the Guide Dogs!
Lynn and Sue have been busy bees. When they aren't hard at work in the farm bakery, helping to craft our naturally tasty recipes, they have been knitting together squares to make wonderful blankets.
After being knitted with care, they have been auctioned off! Be sure you and your four-legged friends keep your eyes peeled for these on our social media platforms; we'd be delighted if you'd take part in this brilliant cause. Plus, we think they make the paw-fect gift, especially as we head into the colder seasons…

Thank You!
We'd like to express our huge appreciation for all the donations that our wonderful Laughing Dog food customers, friends and families have generously provided so far. We are over the moon to have raised just over £5,100 so far thanks to everyone's hard work and goodwill. Now for our 2020 target…!
The Guide Dogs Charity is a cause that we are thrilled to be supporting – what they do as a charity is simply awe-inspiring. Click HERE to find out more about what they do and how you can help.