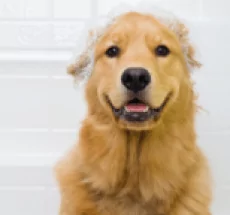 Our top tips for dog grooming
We all love to be pampered so why is your four-legged friend any different? If you have a puppy, grooming your puppy is a great way to help with socilaistion and bonding.
Take your time – grooming your dog cannot be rushed!
Make sure you have enough time to put to one side to do the job properly – you don't want to do a quick job and end up pulling your dog's hairs; they won't thank you for it and you don't want to create stress for them. Puppy grooming can be an energetic activity if they don't want to sit still for long, but with time your pup will get used to the routine.
Your dog grooming routine
Your grooming routine will depend on the breed of dog you have, but the grooming tools you need should be fairly similar. When it comes to buying tools for grooming, we recommend that you talk to a professional groomer, vet or your breeder and ask them to steer you in the right direction so you buy the right grooming tools for your breed of dog. There are many options available to groomers, with varying budgets, so spending some time with a professional first can save you some pennies.
How often should you brush your dog?
Most short haired coats will require brushing once a week, whereas longer and thicker coats may need daily brushing.
Shiny & healthy coats in no time
To groom your dog properly, follow this simple step by step guide and their coats will be slinky and shiny in no time.
– Start by teasing out any tangles – do this gently and slowly, using your fingers. You can also do this with a wide toothed comb. If grooming a puppy, you might find that gently talking to them as you run through their hair we help to settle them.
– Make sure you carefully comb your dog's under layers too – that's where you'll find the dead, loose hairs in their denser undercoat.
– Starting at the head, brush the entire body, right to the tail – don't forget hidden areas like under the tummy, and remember to do the legs and chest too!
– Dog's ears are sensitive so when you get to these, very gently comb any long hair on the outside of the ears. If you want to give the underside of the ear a little clean too just pop some baby oil on a cotton wool pad and wipe over the ear to remove any wax.
– To remove sleepy dust or just clean the corners of their eyes, dip a cotton wool pad in some warm water and wipe gently away from the eye – use a separate pad for each eye.
– Now on to the final part of your dog grooming routine – to the claws! It's important to keep these short and trimmed for varying reasons. Dogs who rack up the miles on the hard grounds should help keep their nails worn down naturally;  however if your four-legged friend doesn't go for long walks on hard grounds, it's important to give them a helping hand.  It can be a little daunting if your dog likes to wriggle, so if you are at all unsure, ask your vet or a professional groomer to guide you or give you a helping hand. Always use dog nail clippers to ensure you don't damage the sensitive part of their claw known as the quick.
That's your dog groomed! It's always nice to give them a little treat to tell them what a super dog they've been once you've finished too (and of course we'd recommend a Laughing Dog oven-baked treat!)  – that way it always makes it a nice experience for them and one to look forward to!
Mobile dog grooming
If you would prefer to use a professional dog groomer, don't panic – simply ask your vet or dog trainer for recommendations and you'll be bound to find a mobile groomer for your dog close by to minimise travel. Word of mouth is also great. Prices vary depending on the services you require. Mobile dog groomers can also offer a dog bathing service too. Depending on the activity of your dog, you might find that they need bathing every one to three weeks.
 Laughing Dog…making dogs 100% dog happy since 1936!
Photo credit: http://www.chiddinglydoggrooming.co.uk/