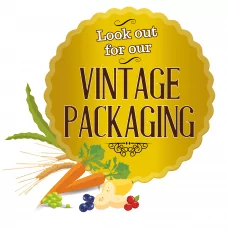 This week our bakers are giving away 6 month's worth of Laughing Dog food to one lucky winner.. all you have to do is:
✔Buy any of our wheat free treats (dental, cheesy or joint care )
✔Look out for our vintage stickers on the front of pack
✔Post to social media or send via email a photo of the vintage treats
✔You'll then be entered into a draw to win 6 month's of dog food
Competition ends 11/06/18. There will be one winner selected by our bakery team. To be entered you must send or post an image of the treats to social media or bakery@laughingdogfood.com. 6 month's supply is equivilant to 3 large bags of our complete food – the winner can choose from our grain free dog food ranges and our wheat free dog food ranges. By posting your photos to our social feeds you agree to the privacy policies held by Facebook, Twitter, Instagram and Pinterest. By submitting your photos to our pages, you give permission for Laughing Dog to use your photo on our social media feeds; we may also use them in our online newsletter and within other print and digital advertising platforms. Competition is not affiliated with Facebook, Twitter or Social Media.
To read our competition T&Cs in full please click here.
To read our privacy policy, please click here.